I chose today's recipe because I wanted to use up some toasted wheat germ. Based on how good they were, it looks like toasted wheat germ will become a staple. I may never try another oatmeal cookie recipe again!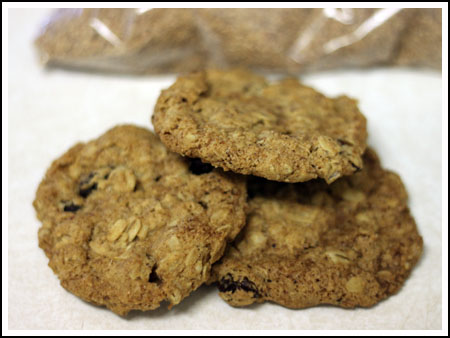 I've baked cookies with wheat germ before, but it's been a while. And frankly, whatever I baked before – well, these are better (keeping in mind I love crunchy cookies). What I liked about these were that they were crunchy, yet light….almost as if they'd been made with shortening, though they're all-butter. Mine were a fairly substantial thickness, but not puffy or in any way chewy. As for flavor, you'll taste the wheat germ, oats, cinnamon, butter and pecans in every bite. These cookies were so good I'd put them in my Top 10, though I should probably make them again before I commit to that. Maybe it was just my lucky day.
The recipe was adapted from was from Martha Stewart, but the original didn't have any salt or cinnamon. I also used Eagle Mills Ultra Grain flour, but you can use any all purpose or white whole wheat.
Crunchy Oatmeal Cookies
1 stick unsalted butter, cool room temperature (4 oz)
1/2 cup very firly packed light-brown sugar
1/2 cup granulated sugar
1 egg, room temperature
1/2 teaspoon vanilla extract
1/2 cup Ultra-grain flour or all purpose
1/4 cup toasted wheat germ
1/2 teaspoon baking soda
1/2 teaspoon baking powder
1/4 teaspoon salt
1/2 teaspoon cinnamon
1 1/2 cups old-fashioned rolled oats
1/3 cup toasted pecans, chopped
1/3 cup mixed golden and regular raisins
Preheat oven to 350 degrees. Line a baking sheet with parchment paper; set aside.
In the bowl of an electric mixer fitted with the paddle attachment, cream butter, brown sugar, and granulated sugar on medium speed until light and fluffy. Add egg; mix to combine. Mix in vanilla; set aside.
Combine flour, wheat germ, baking soda, baking powder, salt and cinnamon. Add the flour mixture to the butter mixture, and stir until mixed. Stir in the oats, followed by the pecans and raisins.
Using a heaping tablespoon measure, shape dough into 24 mounds drop dough onto prepared sheets, about 2 inches apart OR press the mounds down slightly, seal them in a zipper bag and bake them as needed.
Bake until golden and just set, about 13-15 minutes (You might want to check at 12 if you oven runs hot.
Makes 22-24 cookies