Guest Post from Louise
Today's blondies were inspired by a Bobby Flay Showdown. They're called "Tahiti Blondies", and they were such a hit at a luncheon last week, that I'm definitely making them again and already thinking of embellishments. But let me tell you about the recipe first.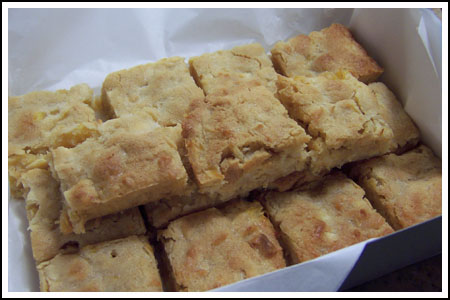 The Tahiti blondies on Throwdown were from Sugar Daddy's. Of course they won, and of course Sugar Daddy's did not provide the recipe. The next stop was Google, where a search for Tahiti Blondies turned up a few viable candidates. The one that was the most well-written and appealing was from Clever Karen, so I decided to start with hers. Or at least that was my intention.
As I made the recipe, I found myself making changes along the way. After looking at some ratios of tried and true blondies, I increased the flour by ¼ cup. I also increased the macadamias (because you can't have too much of a good thing) and toasted them to bring out the flavor. And while this wasn't a change per se, I found that my 8 oz can of drained pineapple yielded about ¾ cup drained, while Karen only got ½ cup. For the white chips, I used Hershey's.
Like I said earlier, the blondies were very well received, as was the white bakery box I carried them in. I got it from Box and Wrap, a company I've ordered from a couple of times and whose delivery was fairly speedy.
Now about those embellishments – I'm thinking dried pineapple and some kind of booze would be a good addition. Maybe crème of coconut?
Tahiti Blondies
1 3/4 cups flour
1 1/2 cups light brown sugar
1 tsp baking powder
1/2 tsp salt
3/4 cup unsalted butter, room temperature — mine was more like 80 degree room temp as it just came out of a warm car
2 large eggs
2 tsp vanilla
1 cup macadamia nuts, lightly toasted and coarsely chopped
1 1/2 cups sweetened shredded coconut
1 cup Hershey's white chips
2/3 cup crushed pineapple (8 oz can of unsweetened, drained, and pressed dry)
Preheat the oven to 350 degrees. Line a 9 x 13 pan with parchment or non-stick foil.
Mix flour, baking powder, and salt and set aside. In a separate bowl, cream together the butter and brown sugar. Add the eggs one at a time, mixing well after each addition. Add the vanilla. Blend in the flour mixture, then the coconut, nuts, pineapple, and chips. Do not over mix or the blondies will be more like chocolate chip bars.
Spread the batter in the prepared pan. Bake for about 25 minutes or until a toothpick test gives a moist crumb. Do not over bake. Let cool, lift from pan, cut into bars.