We're on our way back from Disney World, where I was inspired by all the sweet treats. Rather than list them all, for now I will tell you my absolute favorite so far — The German Chocolate Chip Cookie from Goofy's Candy Company in Downtown Disney.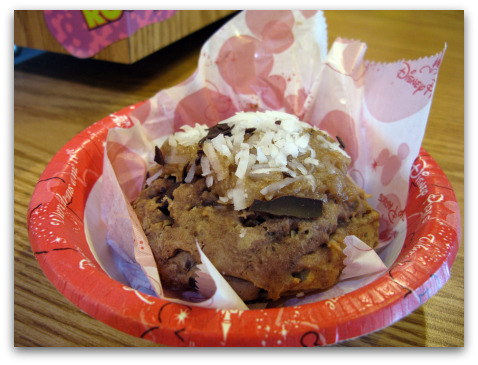 I knew from prior cookie searches that Goofy's often carries some terrific baked goods. Next to Writers' Stop and Starring Rolls Cafe in Disney Studios, Goofy's Candy Company is my third favorite spot for cookies. So I knew I'd find something good, but I underestimated just how good that cookie would be.
Like the other cookies in Goofy's Candy Company, the German Chocolate Chip cookie is a huge, fat cookie big enough to share between two or three people….not that you have to. Along with being oversized, they look kind of rough and dry. A skeptic might think they are better looking than tasting, but if you get one fresh as I must have done today, you will be rewarded with a dry-shelled, tender and soft, slightly underbaked on the inside cookie packed with flavor. In this cookie's case, there was a light chocolate flavor, big chunks of chocolate chips, brown sugar, and a topping designed to mimic what you get on a German Chocolate Cake, but richer and less sweet.
I believe that at one point the Disney Cookies were provided by Las Vegas based Selma's, but I'm not sure they are anymore. Aside from the Rice Krispy treats which carry the Selma's logo, most of the cookies are just branded Disney, if at all.
So if you find yourself in Goofy's Candy Company, think "cookies" and not just candy. And let me know what you think. In the meantime, I'll be posting a clone recipe for the German Chocolate Chip Cookie. A friend and CM reader who liked the cookies as much as I did, developed one recently and now I can't wait to try her recipe.