The other day I picked up a copy of our grocery store's magazine, My Texas Life. It's the issue with the father and son in a boat on front, and it's where I found today's recipe – Texas Chocolate Chip Pecan Cookies.  They're made with light olive oil, and since I'd had good luck making brownies with olive oil, I was eager to try the cookies.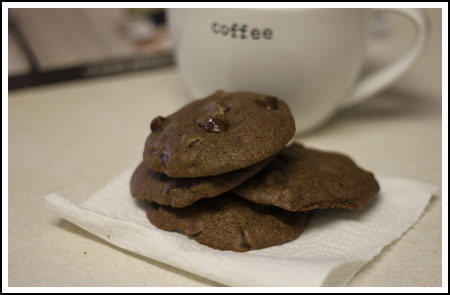 The only change I made to the original recipe was to halve it, and I may or may not have added some extra chocolate chips because I didn't measure. I thought about leaving out the pecans, but I'm glad I went ahead and added them because they work well with the texture of this cookie which is just dry enough to be the perfect backdrop for loads of chocolate and nuts.  These were very good even though mine didn't appear quite the same as those in the photo which you can see in the online version of My Texas Life.
Speaking of my Texas life, things have been kind of stressful here for reasons I can't go into, but the happy light at the end of the tunnel is the new kitchen! Here's what it looked like a week ago. I'll post some newer photos later.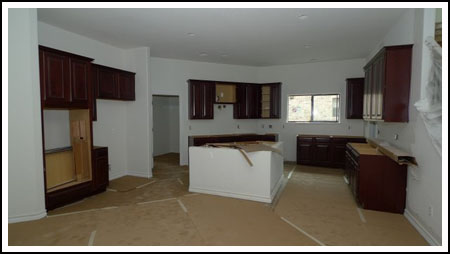 UPDATE: I chilled some of the cookie batter/dough overnight. It did get considerably thicker and the cookies baked up a lot fatter. I recommend chilling the dough if you have the time.
Texas Chocolate Chip Pecan Cookies with Olive Oil
1 cup plus 2 tablespoons flour
3 tablespoons unsweetened cocoa powder
1/2 teaspoon baking soda
1/4 teaspoons salt
1/2 cup light olive oil (or vegetable oil)
6 tablespoons granulated sugar
6 tablespoons packed light brown sugar
1/2 teaspoon vanilla
1 large egg plus 2 tablespoons lightly beaten egg
1 1/4 cups semi-sweet chocolate chips
1/2 cup pecans, toasted and chopped
Preheat oven to 350 degrees F. (H.E.B. used 375). Line two cookie sheets with parchment paper. Skip this if you plan to chill the dough.
Stir together the flour, cocoa, baking soda and salt, set aside. Combine the oil, sugars and vanilla in a mixing bowl and beat with an electric mixer for 3 minutes or until creamy. Add egg and beat for another full minute. By hand, add the flour mixture and stir until blended. Stir in the chips and nuts. Drop batter by 2 tablespoonfuls onto the lined cookie sheets and bake on center rack for 10-14 minutes (H.E.B. said 14-15).
Note: If you chill the dough, it will thicken and you will be able to scoop better balls of dough. I baked more cookies after a 24 hour chill (used the 375 temp) and the cookies were fatter.
Makes about 2 dozen