For the past couple of weeks I've been experimenting with various giant chocolate chip cookie recipes. I started with small batches, and finally worked up the guts to scale the recipe "up". Luckily, the larger batch worked just as well as the mini batch.  These are big, dense chocolate chip cookies (hence the name!).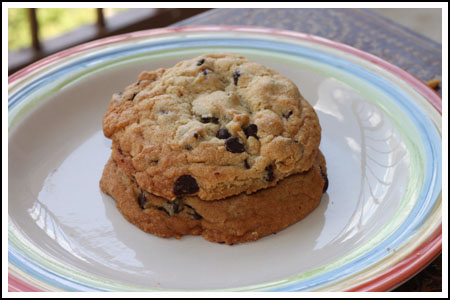 For this version of the recipe, I tried a technique I've been using for chocolate cake where you mix the dry ingredients, stir the fat into the dry ingredients, then add a mixture of egg, water and vanilla. After chilling the dough, baking it on an insulated sheet and freezing and thawing the baked cookies, what you get is a big, thick, cookie with a slightly doughy (yet cooked – it shouldn't taste raw) interior. Also, maybe because of the mixing technique, the insides have a slight crumbliness to them so they're both crumbly and borderline doughy at the same time. I really liked these and have had some good reviews from friends as well, but they're different (the cookies, not the friends) and you may not care for them….but someone will.  If you try them, let me know.
If you want to try making a smaller batch, use this recipe but follow the mixing technique below.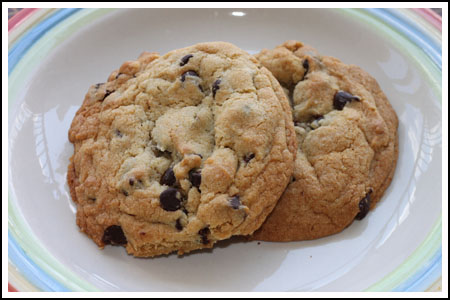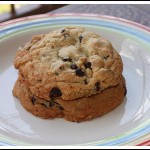 Print Recipe
Big and Dense Chocolate Chip Cookies
Big and Dense Chocolate Chip Cookies
Ingredients
12

oz

all purpose flour

2 2/3 cup – stir to aerate, scoop, level

1

teaspoon

salt

1/2

teaspoon

baking soda

1

cup

light brown sugar

packed firmly

3/4

cup

powdered sugar

8

ounces

softened unsalted butter

cool room temp and cut up

1

large beaten egg

2

tablespoons

water

1

teaspoon

vanilla extract

1 1/2

cups

chocolate chips
Instructions
Don't preheat oven yet because dough requires chilling.

In bowl of a stand mixer, thoroughly mix together the flour, salt and baking soda. Add the sugar and powdered sugar and mix those in, breaking up the brown sugar, until everything seems evenly distributed.

Scatter the cup up butter over the dry ingredient and mix it around with the paddle attachment or your hands until the flour is moistened. It should be clumpy and dry, but hold together when you press it.

In a second bowl, beat together the egg, water and vanilla. Pour the egg mixture into the flour mixture and using the paddle attachment (or a big spoon), mix it around until you have a not-too-sticky dough. If it's very dry, you've probably used too much flour, but the cookies should still be okay. Stir in the chocolate chips.

Using a standard size ice cream scoop or a 1/3 cup measure (slightly heaping), spoon up about 8 or 9 giant rounds of dough. Arrange them on a plate and chill overnight or for as many hours as you can stand to wait.

Preheat oven to 400 degrees F. Set a baking sheet on top of a jelly roll pan. Lay a piece of parchment paper over the cookie sheet. Place 5 balls of dough on the cookie sheet (or start with one so that you can determine the correct baking time) and put the sheet in the oven. Immediately reduce heat to 350 F and bake the cookies for a total of 18-20 minutes, checking at 15.
Dough should look like this.