This week I've been experimenting with self-rising flour. It's worked very well in muffins and biscuits, so this morning I decided to try it in some simple chocolate chip cookies. My prediction was that self rising flour chocolate chip cookies would be cakey, and I was half right. They were slightly cakey, but very dense and had these great, brown, crispy edges. I don't plan on making all future chocolate chip cookies with self rising flour, but I really did like how these turned out and thought the edges were kind of pretty.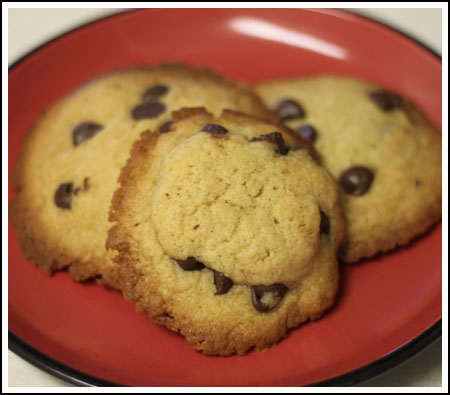 Brown Edge Chocolate Chip Cookies aka Self-Rising Flour Chocolate Chip
9 tablespoons unsalted butter, cool room temperature (128 grams)
1/4 scant teaspoon salt (omit if using salted butter)
1/2 cup plus 2 tablespoons firmly packed light brown sugar (125 grams)
1 large egg
3/4 teaspoon vanilla extract
1 1/4 cups self-rising flour (160 grams)
1 1/3 cup chocolate chips
In a large mixing bowl, beat butter, salt and brown sugar until fluffy, scraping sides of bowl. Beat in egg and vanilla. By hand, stir in flour mixture until incorporated.
Stir in chocolate chips. Chill the dough for at least one hour.
Preheat oven to 350 degrees F.
Using a rounded tablespoon measure, scoop up dough to make balls a little over an inch in diameter. Place a few inches apart on an ungreased cookie sheet and bake for 12-15 minutes or until they appear done.
Makes 14-16 cookies