I have a recipe to post, but first I want to tell you about the Marinex 7-Inch Fluted Small Round Pie Pan
I bought last week on Amazon.  I didn't know such a small pie dish existed and didn't take the time to research, but I finally found it, ordered it, and am glad I did.  This dish holds a pie that serves 3 or 4 people, which means means I can make more pies and not have to worry about giving away half a pie (awkward!) or throwing the rest out when we're tired of it.  It also means I can do more experiments without wasting ingredients.  Case in point, yesterday…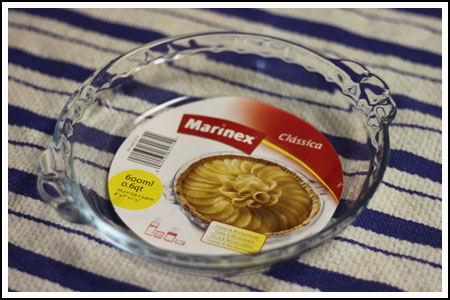 I wanted to try lining the inside of the pie dish with non-stick foil so that I could lift the whole pie out, peel away the foil, set the pie back into the dish and not worry about it sticking to the sides of the dish when I cut it.
Using this Williams Sonoma Pie Crust recipe, I was able to make enough crust to cover the bottom of the dish and have more left over for lattice work…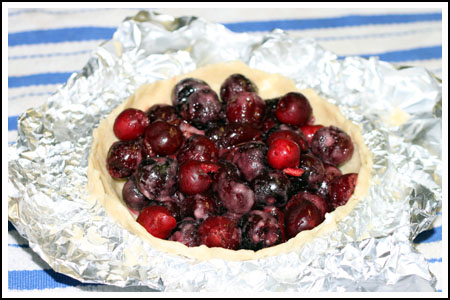 …bad lattice work, but I got into a rush and just started throwing things together. I was more worried about taste and bake-time and whether or not I could remove the pie from the dish.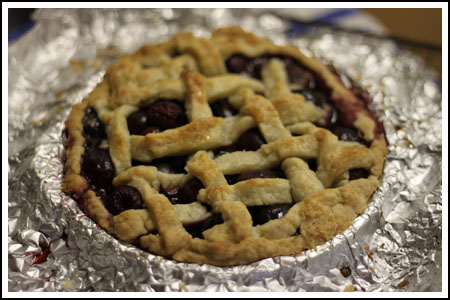 For the filling, I used my old (Epicurious) cherry pie recipe, scaled it to 1/3 of itself and reduced the bake time by 20 minutes. Lattice work aside, the pie looked fine and the foil trick worked perfectly.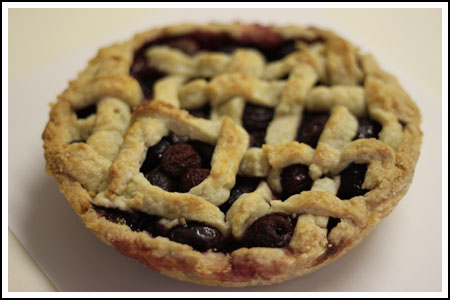 Unfortunately, the pie tasted a little too cornstarchy. I think my mistake was cutting 20 minutes off the bake time to adjust for the smaller pie.  Even though the pie was smaller, I think the  filling needed that same hour-plus long cook-time to rid it of cornstarch flavor since the cornstarch is tossed with the cherries and not boiled and thickened as in most recipes.
So back to the old drawing board, but a fun drawing board! I'm glad I bought this dish and hope this info is helpful for my fellow small batch bakers.