Fuzz is home for the summer and we're kicking it off with a trip to Disney World. This year we're taking an extra kid. Fuzz's buddy Anevay will be seeing The Happiest Place on Earth for the first time.  It's going to be a learning experience in a lot of ways. One of which is that Anevay is a vegan, and we're going to learn the ins-and-outs of eating vegan at Disney.   So far, I'm not too worried because I found out that if you call a special number, Disney will send you a "Dietary Request Form" which you email back and which they will email to the chefs at the restaurants where you plan to eat. I'm looking forward to letting you know how this process works.
Okay, that was a long introduction but I felt like it was necessary to fill you in. Plus, it's the reason I've been making these vegan cookies. Anevay loves them, and I like making them because I can whip them up in about 2 minutes using a bowl and spoon. This recipe is from Dreena Burton, and these cookies are a good example of the other types of recipes she has in her books — delicious, uncomplicated, and wholesome. Here's the original recipe for Dreena Burton's Homestyle Chocolate Chip Cookies.
Mine look a little different because I've been halving the recipe and varying the proportions of oil and syrup slightly, but they're still great.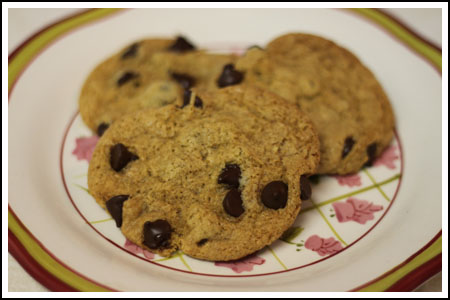 Related posts: