I take my coffee black with a side of cookies. My favorite brew is Sumatra, but I like Kona when I can get it and love a good espresso now and then. What I rarely order is flavored coffee. I used to like it, but one morning someone accidentally brewed mint coffee and I drank it with peanut butter toast. From that point on, I stopped bringing flavored coffee into the house…or at least mint. Every so often I'll buy a cinnamon flavored coffee for the spouse, but I usually stay away from it these days because the added flavors so often overwhelm the brew. At least until now.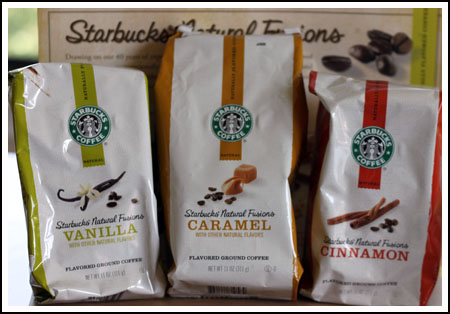 A few weeks ago Starbucks sent us samples of their new Natural Fusions, which is a blend of hand-selected Arabica beans and natural spices and botanicals. What you get is a coffee with more than a hint of flavor (you can definitely taste it) but a flavor that mingles well with the beans and doesn't overpower — case in point, the Caramel Fusion which I've been drinking with just about everything. At first, I could really taste the caramel flavor. But by my third sip I was enjoying the nuances of what tasted like burnt sugar and didn't find the blended flavors overpowering in the least. And yes, it does go well with peanut butter or chocolate or whatever the sweet of the day is. Today I'm drinking Caramel Fusion with Peanut Butter Cup Toffee Cookies. I can't share the cookies, but I can share the coffee with one person.
If you'd like a chance at receiving a set of three new bags of Starbucks Natural Fusion Coffee, tell me what your favorite brew of coffee is and what you like to drink it with. I or my associate (Fuzz) will pick a random number and match it up with the comment. This giveaway will end tomorrow (Friday) at midnight. I'm keeping it short so your odds will be better. Good luck!
Related posts: