Let's talk about ducks. Duck cakes, that is!
Fuzz is having her birthday party at a bath store (Bath Junkie) and the clever girl decided that her cake should be a rubber duckie. Naturally, she wanted to help make it, so we spent some time last week looking for rubber duckie cake ideas. Our "safe" idea was to just make blue frosted cupcakes and stick rubber ducks on top, but Fuzz wanted to take it a step further and build a duck. With a little help from a video, we made a practice duck cake.
Here's the video of how to make a rubber duckie cake.
For the cake, we used the Cake Mix Doctor's "Basic Butter Cake" (Duncan Hines white cake, 1 cup whole milk, 3 eggs, 1/2 cup butter, 2 teaspoons vanilla) and for the icing we used the directions on the back of a box of C&H Sugar. We had to make 2 full batches of icing to make enough yellow frosting, but one box of cake mix (doctored as mentioned) was enough for the body.
Our cake took two days to make, but only because it required freezing. After building the cake, you frost it with a crumb layer then freeze that whole crumb layer before doing the finishing touches. Here's the crumb layer.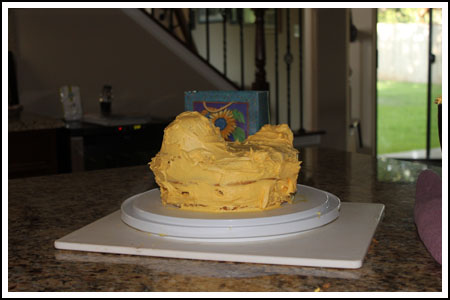 And here's the finished duck! Fuzz was so proud of her practice cake she invited a bunch of girls over to come eat it. Nobody liked my idea of putting red jam between the layers, but they all liked the cake. Also, the Cake Mix Doctor's recipe makes a great base for building cakes.