Every cupcake is a miniature work of art, so why not display yours in style with a The Cupcake Tower.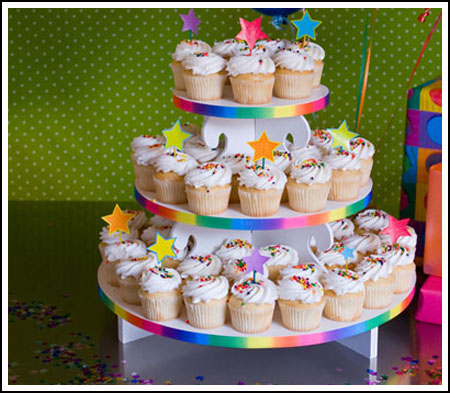 Founded by sisters Joy and Jennifer, who believed there wasn't yet a cupcake stand out there worthy of holding the precious creations of cupcake bakers around the word, The Cupcake Tower was hand crafted as a fresh and elegant showcase to cupcake batches of all sizes.  There's Tiny, Small, Medium and Large, and today you have the chance to win one "Small" which if you ask me, is a pretty nice size for a home baker.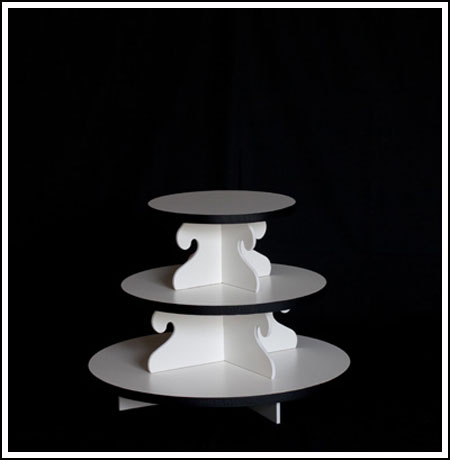 It has three layers (10", 14" and 18") and holds approximately 72 standard size cupcakes, stands 13 ½ " high when put together, folds flat to store just about anywhere, is made of durable wood (mdf) and has a thin laminate coating similar to a countertop so that it wipes clean easily.
If you like the Cupcake Tower, you can become a fan on Facebook to get all the latest Cupcake Tower news, and you can take a shot at getting one for free.
For a chance at having a cupcake tower sent to your home, write a comment telling me who in your town makes or sells the best cupcakes.  If your favorite cupcake was from a place not in your town, that's okay too — but make sure to say where.  . Fuzz and I will randomly choose a comment Monday morning the 23rd of August around 7:00 AM. Any comments after that will be read with interest, but not eligible for the giveaway.  The lucky commenter will be notified by email, as always.  Good luck!  And I look forward to hearing about all the good cupcakes.
UPDATE: Contest has a winner — Dee, who chose Icing on the Cake in Folsom, CA.
Related posts: