Happy Halloween!
So I'm a little early, but I like having things to look forward to and have set my sights on Halloween. Celebrating the holiday with new friends and trick-or-treat routes should be fun. Fuzz is already figuring out her costume and I've started thinking about Halloween treats.
This month Big G and Betty Crocker challenged bloggers to bake Halloween treats using Big G cereal. At first I wanted to use a monster themed cereal like Count Chocula, Frankenberry or the more elusive Boo Berry, but the project needed to start ASAP and the monster cereals had not yet appeared in stores. Hopefully there will be some Count Chocula sightings in the next couple of weeks, but in the meantime I decided to go with Cheerios.
Does this pumpkin make them look scary?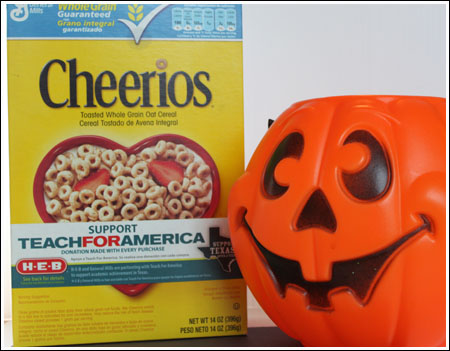 I wasn't sure what to do with the Cheerios and decided to just get going and see what ideas came in the process. To start, I pulled out ingredients for my favorite Cheerio cookie and dressed up the dough with some peanut butter candies. You know, ET's favorite….the ones that come in Halloween flavors all year round and are known to mysteriously disappear during the baking process? I could have sworn I started with half cup.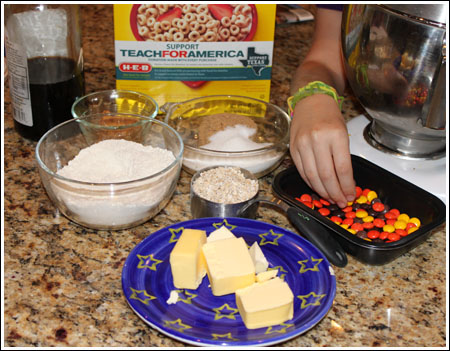 The candies were a nice touch, but how could I make the cookies scarier?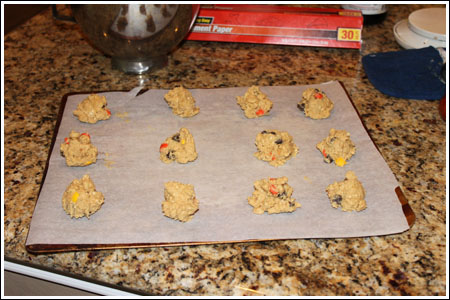 While the first batch of cookies baked, I played around with the Cheerios and some miniature chocolate chips…..then marshmallows, then peanut butter. Time to test the idea.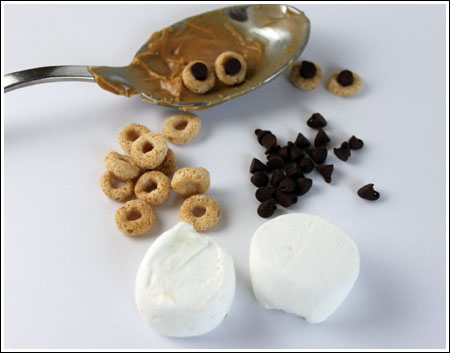 It worked! Of course the little ghosts are more cutesy than scary, but that's probably a good thing. I'd hate to frighten little children with baked goods.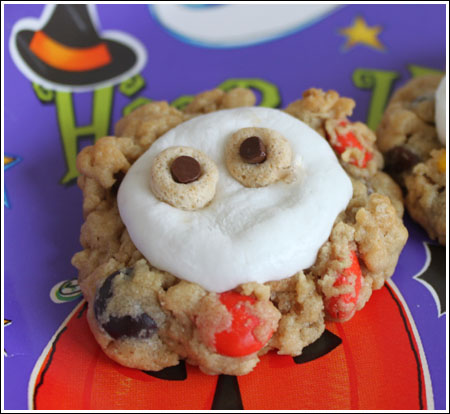 Ah, but some of you may be frightened by the ingredient list. If you're in a time crunch and don't necessarily want the peanut butter, you can use sugar cookie mix and make ghosts like this. All recipes are below.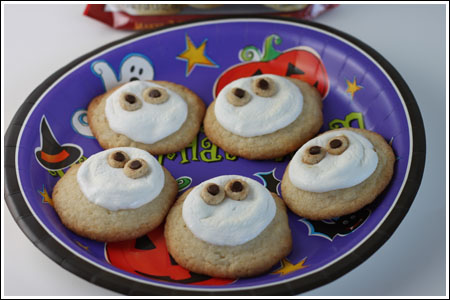 Friendly Ghost Cheerio Cookies

8 tablespoons unsalted butter, softened
1/2 cup granulated sugar
1/2 cup brown sugar, packed
1/4 cup peanut butter
1 large egg
1/2 teaspoon vanilla
1 cup all purpose flour, fluff and spoon into the cup, don't pack
1/2 teaspoon baking powder
1/2 teaspoon baking soda
1/2 teaspoon salt (omit if using salted butter)
1/2 cup quick cooking oats
1 1/2 cups Cheerios
1/2 cup semi-sweet chocolate chips
1/2 cup candy coated peanut butter candies
14 large marshmallows, snipped in half
Handful of mini chocolate chips (56 to be precise)
Handful of Cheerios (again, 56…but you'll want more for snacking)

Preheat oven to 350 degrees F.

With an electric mixer, beat butter and both sugars until light and creamy. Reduce mixer speed to low and beat in peanut butter, egg and vanilla.

Mix together the flour, baking powder, baking soda and salt. By hand or using lowest speed of mixer, gradually add the flour mixture to the batter and stir until it's mixed in. Stir in the oats, Cheerios, chocolate chips and peanut butter candies.

Drop dough by neatly rounded tablespoons onto parchment lined or ungreased cookie sheets. Bake for 8-9 minutes or until cookies start to appear set but still moist. Remove from oven and quickly place a marshmallow half on top of each cookie. Return to oven and bake cookies for another 2-3 minutes or until marshmallows puff up and cookies appear done. Let cookies cool on the cookie sheet for another 5 minutes, then transfer to a cooling rack.

While cookies bake and cool, prepare the eyes. Stick a mini chocolate chip point side down in the center of each Cheerio to make an eye. Stick the eyes on the warm marshmallows. If you need to, dab the back of the eyes with peanut butter to help them stick. Let cool.

Makes about 28
Here's the quick version. Feel free NOT to count out the chocolate chips and Cheerios. I'm not even sure why I put the number.
Friendly Ghost Sugar Cookies

1 packet Betty Crocker sugar cookie mix (17.5 oz)
1/2 cup softened butter (not melted)
1 large egg
18 large marshmallows
72 miniature chocolate chips
72 Cheerios

Prepare the cookies as directed on package using the instructions for drop cookies.

Bake the cookies for about 7 minutes. Pull from oven and quickly stick a marshmallow half in the center of each cookie. Return to oven and bake for 2-3 minutes or until the marshmallows puff up and cookies appear set and brown around edges.

While cookies bake, stick chocolate chips point side down in center of Cheerios to make eyes.

Remove from oven. Let cool on cookie sheet for about 2 minutes, then transfer to a rack. Carefully place the eyes near the top center of each marshmallow to make a spooky ghost face.

Makes 36