Good morning from rainy Austin! Or is it sunny Austin? Or is rainy? I don't know, but the weather can't make up its mind. An hour ago I thought I'd be trapped inside all day, but now the sun is shining and beckoning me to head out for some fun Friday morning errands (Michaels! Wine Store!) before it rains again.
But first I have to wait for my second batch of cream cheese brownies to come out of the oven. More on that later, but while I'm waiting I will tell you about some contests from my friends at Oh Nuts!
First off, there's the Oh Nuts! Life as We Know it sweepstakes. Oh Nuts! is partnering with Warner Brothers to promote Life as We Know it, a new movie with Katherine Heigl and Josh Duhamel. The prize is a trip for 4 to Hollywood (air and the W hotel included!) plus 4 tickets for a VIP tour at Warner Brothers. The contest takes about 2 seconds to enter and I would absolutely love it if a Cookie Madness reader won. Good luck.
And here's the second contest.   Oh Nuts! is giving a Life as We Know it inspired Baby Girl or Baby Boy Gift Basket to one Cookie Madness reader. Wouldn't it be funny if you won the sweepstakes and the gift basket?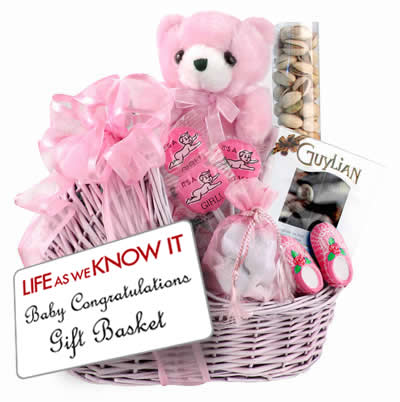 For a shot at the gift basket from Oh Nuts!, please tell me
a) your favorite nut
and
b) something your child did as a baby that surprised you. For instance:  My favorite nut is the pecan and my child would only nap in a swing.
If you don't have a child, state your favorite nut and tell me something about your pet.  For instance:  My favorite nut is (still) the pecan and my dog is really good at catching food in mid-air.
I will use the random number generator to pick a comment.  Deadline for this giveaway is this coming Monday at noon CST (September 27).
Related posts: