Last week Voskos sent us a case of Greek yogurt. Because of Greek yogurt's high protein content and numerous health benefits I was already a fan.  But I'd been buying the same flavors and had never taken the opportunity to try  the more eclectic sounding blends such as Exotic Fig and Honey Bean Vanilla. Luckily Voskos included those flavors in the sample case and to my surprise, they turned out to be my favorite.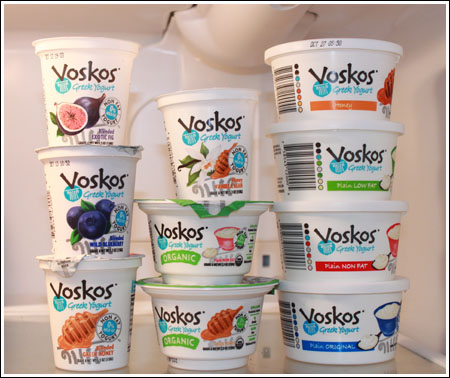 —–Exotic Fig was so delicious that I finished off the container.  This was surprising since I generally only like figs when they have the word "Newton" next to them.
—–As for the Honey Vanilla Bean, I thought I'd use it in muffins or pound cake, but it ended up being lunch. The texture was fantastic. It was thick and creamy as promised, but also extremely smooth, and I had to check the carton twice to make sure I was eating the non-fat kind.
—–As for the blended Blueberry, I was already familiar with that flavor and liked it, but the other two flavors were (in my opinion, of course) much better.
The plain varieties I tried were also very good, though I only took small tastes and used the rest for baking. I used some in a chicken dish and in muffins.  I have yet to make a yogurt pound cake, but it's been on my list for a while.
 I really enjoyed my free yogurt and am even happier to have found some new flavors I'll buy on a regular basis. Now it's your turn to try some good Greek yogurt. For a chance at a 30 day supply in the form of coupons, tell me one activity that you look forward to and which you feel contributes to a healthy lifestyle. For instance, my answer would be walking I like walking much more than going to the gym and when the weather is nice, I look forward to it. Post an activity you enjoy in the comment section and I will have a friend or family member pick a number at random after Friday, September 10th at noon.
So again, this giveaway ends Friday September 10th at noon. You can post a comment after that but it will not be considered in the drawing. Also, this giveaway is limited to the USA. Voskos is only sold here anyway.
Related posts: