I didn't really need an excuse to make these cookies, but I had one. The Girl Scouts were meeting at our house and naturally they expected a snack. Or at least that's what I told myself when I stumbled upon Candy Corn Hershey's Kisses at Target. The fact that there was a cookie recipe on the back just sealed the deal.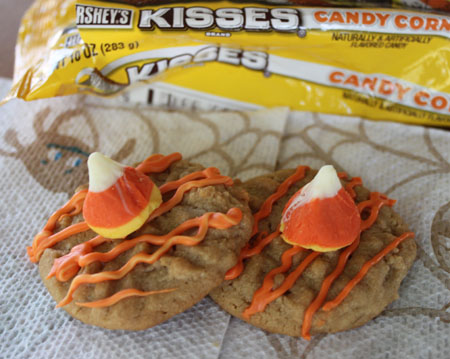 The cookies were a smash hit. They're not-too-sweet peanut butter cookies drizzled with melted Candy Corn Kisses with a whole Kiss stuck in the middle. They're garish in a perfect way and believe it or not, they taste great. If you've ever had white chocolate with peanut butter, you know it's a good combo, and that's kind of how these taste, but the white chocolate has notes of candy corn flavor. Also, the Kisses melt really easily. Reading the recipe in the store, I was kind of worried about melting them in a freezer bag in the microwave, but I followed the Hershey test kitchen directions and didn't have any issues. If you have a very high wattage microwave, you may want to use 40% power instead of 50.
Okay, I feel like I'm getting ahead of myself. Here's the recipe. The girls LOVED these. Below is a link to the recipe along with a photo of what the bag looks like. I found the seasonal Kisses at Target.
Kisses Candy Corn Autumn Cookies