If you like the idea of a healthy brownie, you're in luck because the idea is not difficult to execute. Brownies are surprisingly versatile, and while I've had my share of gummy, lackluster, fat-free, brownies, I've also found many "wholesome" type recipes to be excellent. This is one of them. Along with helping you fulfill your daily RDA of dark chocolate, you get a good dose of tasty, anti-oxidant filled dried cherries, all nestled within a matrix of varying textures which will satisfy you on many dessert-craving levels. But that's not really why I made the brownies. I made them because the recipe seemed different that most of the others I've made.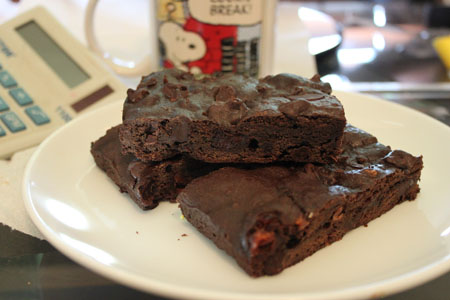 This brownie recipe was given to me by my friend Janet who got it from her running partner who got it from an AP article by Jim Romanoff in the Charlotte Observer. Janet's version includes a few notes, and I added a few of my own. Really, we didn't change much.
The base texture is very dense, packed with chocolate and cherries, and a little dryer than some brownies, though I cooked mine for the full 30 minutes when I should have pulled the brownies at 25. Still, this is a case where a slightly less moist base works because you get more contrast with the juicy cherries and rich chocolate chips. If the brownie base were too fudgy, those other textures wouldn't stand out as much. Or at least that's my opinion. I loved these even though they had a "healthier" tag attached.
About the dried cherries, I rarely have those on hand because they are expensive and not always easy to find. I did have some regular dried cherries, though. To make them sour, I put them on a plate, squeezed fresh lemon juice on them, then rolled them around it in making sure they absorbed a little of the lemon juice. It worked! The lemon trick gave the illusion of sourness, but didn't make the brownies taste lemony.
One more note. These are best at room temperature. I'm mentioning that because I tend to like cold brownies, but these were better at room temp.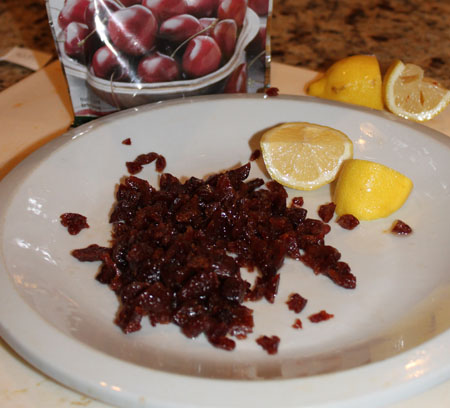 Dark Chocolate Brownies with Sour Cherries

3/4 cup all purpose flour (fluff flour, lightly spoon or weigh 3.4 oz)
2/3 cup powdered sugar
3 tablespoons unsweetened dark chocolate Hershey's cocoa powder (or Dutch)
1 1/2 tablespoons vegetable oil
6 oz (1 cup) semi sweet or bittersweet chocolate chips (I used bittersweet)
1/4 cup granulated sugar
2 Tbsp light corn syrup, blended with 3 Tbsp lukewarm water
1/2 tsp almond extract or vanilla
Pinch of salt
1 large egg
3/4 cup dried sour cherries or regular dried cherries

Heat oven to 350 degrees. Coat an 8 inch square pan with cooking spray or line with foil and spray foil.

Sift together flour, cocoa powder, and powdered sugar in a small bowl.

Combine the oil and half the chocolate chips in a heavy medium saucepan. Place the pan over the lowest heat and cook, stirring constantly, until just melted and smooth (be careful that the chocolate doesn't overheat).

Remove the pan from heat and stir in the granulated sugar, corn syrup mixture, extract, and salt until the sugar dissolves. Stir in the egg until smoothly incorporated. Gently stir in the dry ingredients. Make sure the batter isn't too hot at this point, because you don't want the extra chocolate chips to melt into it.
Fold in the cherries and the remaining 3 ozs (1/2 cup) chocolate chips just until well blended. Transfer the batter to the prepared pan, spreading evenly.

Bake until almost firm at the center and a toothpick comes out with some moist batter clinging to it, 25 to 30 minutes. Cool completely on wire rack for 2 hours. Lift from pan by grasping foil. Cut into squares (12 or 16)
Other "better-for-you" brownie recipes I enjoyed
Olive Oil Brownies
Martha Stewart's Brownies
Mocha Brownies from Cooking Light
Vegan Brownies