Are you ready for Halloween? Our neighbors are. Here's the view out my window.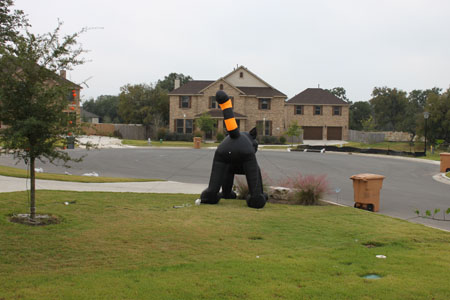 Here's a better view. Grrrrr, Kitty.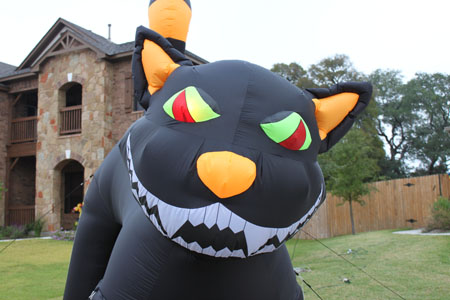 Our neighbors put this guy in their yard yesterday, and since it's almost in our yard I'm pretending it's mine. I was actually going to buy this same cat at the Walgreen's, but upon closer inspection, Fuzz decided its expression was too creepy and we opted to stick with our old pal, Tigger.  Boo!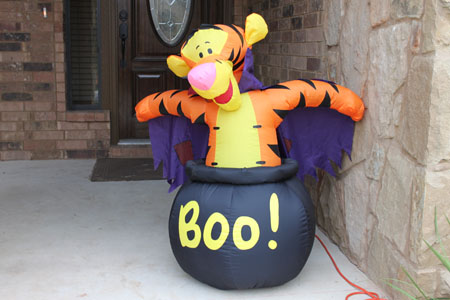 Oh, but I do love this time of year, and with the Halloween spirit afoot, I decided to make a ghoulish treat – biscotti dipped in candy bark and sprinkles.
Decorating is obviously not my strong suit, but Halloween is a good time to practice since a little shabbiness is acceptable. Even before I dipped them in the (badly) melted bark, my biscotti were not perfectly shaped. Still, I like this recipe. It's one of the most flavorful and chocolate-packed I know. The original was made with walnuts, but I used almonds. Also, note the amount of salt. Some people like to cut the salt in this recipe, but others keep it at 1 teaspoon. I'm in the latter category, but even 1 teaspoon does have a salty bite. So if you are sensitive to salt, but it in half.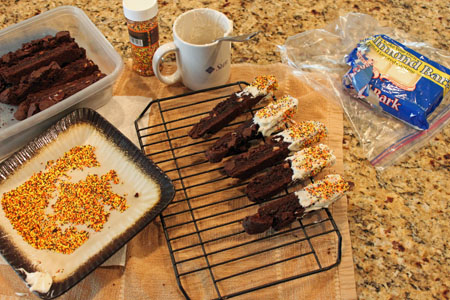 Halloween Dipped Biscotti — adapted from Epicurious

2 cups all-purpose flour (9 oz)
1/2 cup unsweetened cocoa powder**
1 teaspoon baking soda
1 teaspoon salt (use ½ if you like)
6 tablespoons unsalted butter, softened
1 cup granulated sugar
2 large eggs
1 cup almonds, roasted and chopped
3/4 cup semisweet or bittersweet chocolate chips
White Almond Bark
Halloween Sprinkles

Preheat oven to 350°F. Line a baking sheet with parchment paper.

Mix the flour, cocoa powder, baking soda, and salt together in a bowl.

In another bowl, beat the butter and sugar until light and fluffy. Add eggs and beat well. Stir in flour mixture. When flour is almost fully incorporated, add the almonds and chocolate and stir to make a stiff dough.

On prepared baking sheet, form dough into two slightly flattened logs, each 12 inches long and 2 inches wide. Bake logs 35 minutes, or until slightly firm to the touch. Cool biscotti on baking sheet 5 minutes.

Reduce heat to 325 degrees F.

On a cutting board cut biscotti diagonally into 3/4-inch slices. Be careful because they break easily! Arrange biscotti, cut sides down, on baking sheet and bake until crisp, about 20 minutes. Cool biscotti on a rack. I like to let it cool for a few hours before dipping.

Melt candy bark as directed on package and dip ends of candy into melted bark. Sprinkle dipped part with Halloween sprinkles.

Makes about 30
**For the cocoa powder, I used a mixture of Hershey's Dark and Hershey's Natural.