Today's cookies are a prize winning recipe from Taste of Home.  They're called Cashew Crescents.
Taste of Home's cookies.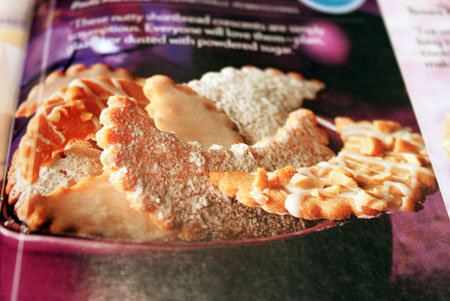 My cookies.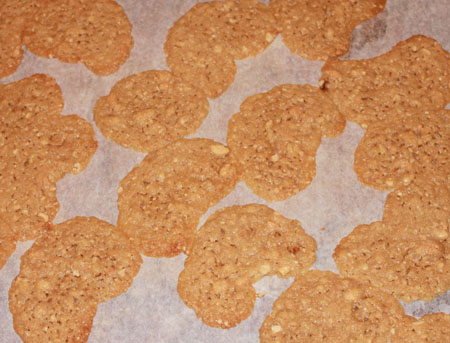 Let's troubleshoot, 'cause it's better than cryin'.
Okay, so I did scale the recipe down, but the recipe didn't have any leavenings or eggs and the scaling downwards was pretty straightforward. I weighed everything and got a wonderful smelling dough that cut beautifully with the scalloped cookie cutter I drove all the way to World Market to buy.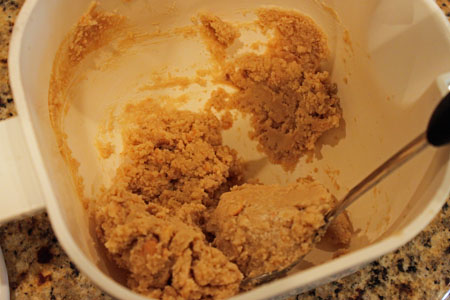 So what happened? Why did my crescents spread? I'd like to blame it on the amount of flour, but the dough seemed just right. Perhaps I didn't work enough in during the cutting process? Maybe the winning cookies were made with European style butter which sometimes causes cookies to spread less?  But they would have mentioned that, right?
Despite their appearance, the cookies had a wonderful flavor and I almost want to try making them again. I think if I do then I will a) work a little more flour into the dough b) bake one as a tester and c) if it spreads, just bake the cookies as circles and call them cashew lace cookies.  Or maybe I'll just sit back and wait for some bloggers to make them.  If you make them, let me know how it goes.  They really did have a great flavor.
Luckily, there are a lot of other good recipes in the issue as well. The German Chocolate Thumbprints sound promising and Shannon's chocolate toffee bars look great!