A few weeks ago I met up with a sweets & tea loving friend in New York. While she's been known to travel by cab, subway or foot to find the perfect bakery, she suggested we spend the morning in her own neighborhood and visit the Alice's Tea Cup Upper West Side shop.  I figured we couldn't go wrong with an Alice in Wonderland themed tea shop, and while I knew I'd like the place, I didn't expect Alice's Tea Cup to blow me away like it did. It was just so cute — and not too crowded on a Saturday morning, though they were filling up fast with families who appeared to be regulars. And who wouldn't want to be a regular here? You walk into the small, darkish bakery.  On one side are shelves filled with  multiple Alice in Wonderland themed tea boxes and trinkets, while on the other is a display case with whimsically flavored scones, classic cookies, and cakes. We spent some time looking at all the goodies and debated whether to get a table in the little back dining room or buy scones and tea to go. We opted for the latter and took our pumpkin scones and tea over to a bench on Central Park West to eat and watch people walk by with their dogs.
On a beautiful morning like that, even a mediocre scone would have sufficed, but this pumpkin scone was the best I'd ever tasted. It was buttery with a hint of caramel flavor and a texture that was definitely biscuit-like, but almost as soft as cake. It's safe to say it was the best scone I'd ever eaten, so I was very happy when I returned home and received an email asking if I'd like to review the Alice's Tea Cup Cookbook. Of course!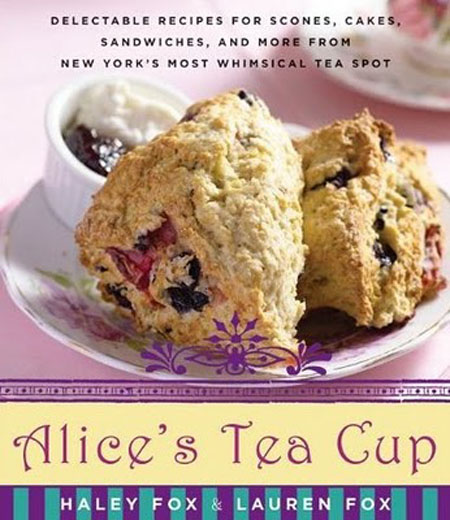 There's been a nice crop of baking cookbooks this year, and Alice's is at the top of that list. It's unique yet practical, which is what I always look for in cookbooks for myself and for gifts. Along with several photos and the story behind what led the Fox sisters to tea shop proprietorship, the book has recipes for scones, cookies, cakes, soups, salads, sandwiches plus tips on brewing tea, menu pairing and throwing parties. Still, recipes are the main draw, and they are stellar. The scone recipes include classics such as their famous pumpkin, but also recipes with a twist.  I made the Butterscotch Banana Scones and the Mocha Chip Scones this weekend and they were as tasty as the one I had at the bakery.   But the book has more than scones.  There are several recipes for familiar cookies, but with a few special touches such as small infusions of tea. The Double Chocolate Cookies have a hint of Mauritius tea leaves while the Hello Dollies and Phoenix Oatmeal Butterscotch Chip Cookies both include Rooibos. There's even a Mint Black Bottom Cupcake recipe which gets its mint flavor from Trafalgar Square tea, a tea for which the Fox Sisters provide source listings, just like they do all the others. But not every recipe has tea in it. There are some of Alice's classic cakes, a very easy banana bread, plus some eclectic soups and salads including Green Goddess soup, a Thai Chickpea soup, and Alice's Tea Cup's popular salad dressing, which I'm not sure I want to make first or try at the restaurant.
I can't wait to go visit Alice's  this summer with Fuzz, a true Alice fan.  But until we make it to the shop, I'm so glad we have this book. Here's a photo of the Mocha Chocolate Chip Scones from yesterday. I've given the Butterscotch Banana Scones their own special post.  If the Cinnascones sound more to your liking, you will find that recipe on The Secret Ingredient.