Recently, the folks at Smile.Y sent me a sample of Ideal No Calorie Sweetener, a sugar substitute in which the main ingredient is Xylitol. While my favorite sweetener is regular sugar, I do use  alternative sweeteners to cut calories (specifically in yogurt, oatmeal and tea) and decided to give the Ideal Sweetener a test run.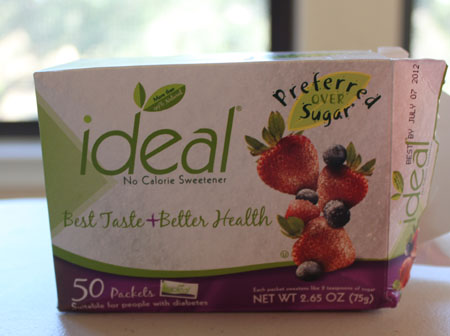 It was great in plain yogurt (to which I almost always add a dash of lemon juice), I loved it in tea, where I couldn't detect any aftertaste at all. And finally, I've been using it quite often in oatmeal. I need a lot of added sweetener to enjoy my oats and if I were to add my beloved sugar, I'd be piling on a lot of calories. So in oatmeal, the Ideal Sweetener has been great.
If you use sugar substitutes for health reasons or to cut calories and want to try something a little different, definitely try the Ideal. If you're like me and usually detect an aftertaste (even if it doesn't always bother you because you're so used to it), you may be pleasantly surprised by Ideal's clean finish. If you do try it, let me know what you think. On the box it says "Preferred Over Sugar" and I'd like to see if it really lives up to that slogan!
As for baking, Ideal has a baking blend, but in small recipes you can just use the packets and use one packet for every 2 teaspoons of sugar. I used the Ideal packets in a batch of muffins. They rose very nicely, and had a great initial flavor, but there was a slight aftertaste. It wasn't awful, but I could taste it. So in the case of this particular recipe, I'd say it's good if aftertastes doesn't bother you or if knowing you've cut the sugar is worth the slight aftertaste.
For test purposes, I made the Fiber One Chocolate Muffins using 9 packets of Ideal.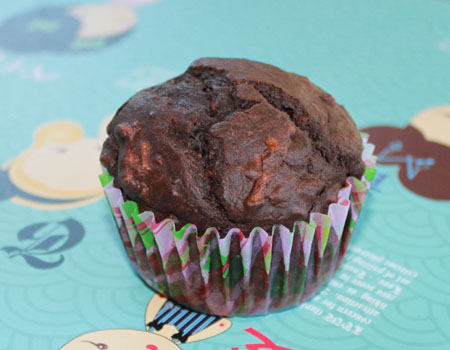 Chocolate Muffins with Ideal Sweetener

1/2 cup Fiber One® original bran cereal
2/3 cups buttermilk
2 tablespoons vegetable oil
2 tablespoons egg
6 tablespoons brown sugar or 6 tablespoons Real Sweet or 9 packets
1 cup all-purpose flour
1/4 cup unsweetened baking cocoa
1/2 teaspoon baking soda
1/2 teaspoon vanilla
1/8 teaspoon salt
3 tablespoons miniature semisweet chocolate chips

1.Heat oven to 375°F. Place paper baking cup in each of 6 regular-size muffin cups. Place cereal in plastic bag; seal bag and crush with rolling pin.
2. In medium bowl, mix cereal and buttermilk; let stand 5 minutes. Stir in oil and egg. Stir in remaining ingredients except chocolate chips. Stir in chocolate chips. Divide batter evenly among muffin cups.
3.Bake 15 to 20 minutes or until toothpick inserted in center comes out clean. Immediately remove from pan. Serve warm.