This weekend I made Eric's Chocolate Chip Cookies from Top Chef Just Desserts.  They were incredible!
Here are a few more notes for those of you planning on making the cookies.  I  got the best results when I made the cookies with chilled dough, used chocolate that wasn't too smooth or easy-melting, and baked the dough on stacked cookie sheets. Doing all of those things resulted in less spreading.  Just for fun, and because I wanted to make use of some Halloween candy, I baked four cookies using different types of add-ins.  For each cookie I used 2 oz of dough and .9 oz of add ins. Clockwise, we have a cookie made with
Callebaut Callets (60%) — Which in my opinion taste delicius, but are too small for gigantic cookies.  They're all I had today, though.
Chopped up Lindt Bar (70%) "Smooth Dark".   Not recommended, and you'll see why.
Oreos
Chopped up Reese's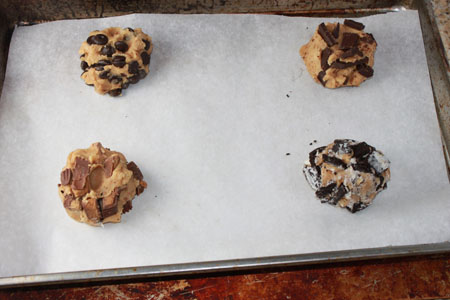 The cookie that spread the most was the one with the Smooth Recipe Lindt 70%. The chocolate spread and so did the cookie.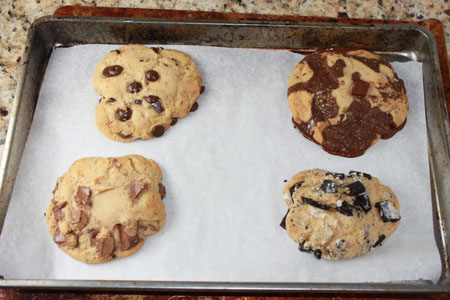 It would have been worse if this dough hadn't been chilled for two days. I guess the point is, choose your chocolate wisely. Just because it's a fine chocolate doesn't mean it's suitable for great chocolate chunk cookies. Of course, if you're looking for a chocolate that melts beautifully, go for the smooth.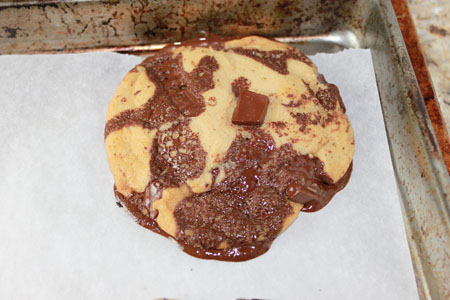 Related posts: