One of the meals on our trip to Hershey was called a chocolate infused lunch created by the chefs at the Hershey Lodge.  Every course had some type of chocolate, and while I would have been happy just eating the incredible Mexican chocolate cake they served at the end, the flavors in the other dishes were fabulous.
While I wasn't able to find all of the recipes from our lunch, I did find a database of of recipes from the resort.  The link is called Hershey's Sweet Recipes.  If you click on it and want to view all the recipes, make sure to click "See All" so that you'll get all of them.  The ones on the front page are their Top 10.  Hopefully this link will come in handy should you be trying to infuse some chocolate into your own savory dishes.
But back to the lunch at Hershey's Lodge, here's what was on the menu.
Braised Cocoa Pork Belly with Wild Mushroom Risotto

Field Greens, Cocoa Cashews, French Feta Cheese, Pomegranate Seeds, Orange Sections & Chocolate Balsamic Vinaigrette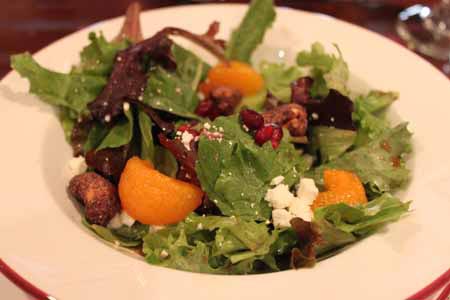 Tenderloin Medallion and Cocoa Crusted Diver Scallop with Chocolate Sweet Onion and Dried Fig Marmalade, Root Vegetable Smash and Braised Greens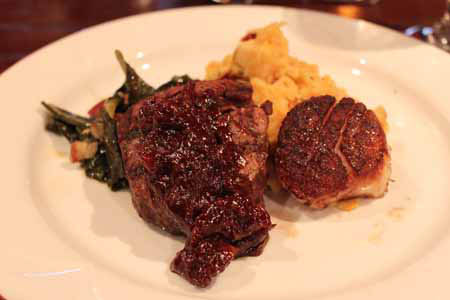 Mexican Chocolate Cake with House-Made Eggnog Ice Cream