Here's another cookie from yesterday's Girl Scout meeting. The girls recognized them right away as Snickerdoodles, but the surprise was the Heath toffee bits which add texture and flavor. They liked these toffee studded Snickerdoodles a little better than the peanut butter cookies, but the adults preferred the peanut butter.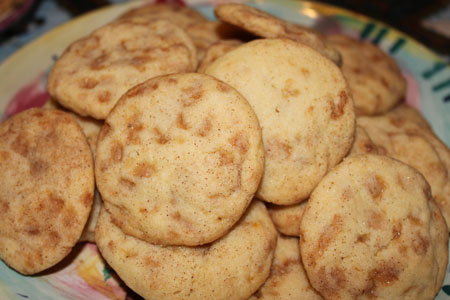 Toffee Studded Snickerdoodles
1/2 cup (1 stick) butter or margarine, softened (I used unsalted butter)
1/2 cup shortening
1-1/3 cups sugar, divided
2 eggs
2-3/4 cups all-purpose flour
2 teaspoons cream of tartar
1 teaspoon baking soda
1/4 teaspoon salt (added an extra big pinch to adjust for unsalted butter)
1-1/3 cups (8-oz. pkg.) HEATH BITS 'O BRICKLE Toffee Bits
2 teaspoons ground cinnamon
Preheat oven to 400°F. Beat butter, shortening and 1 cup sugar in large bowl until fluffy. Add eggs; beat thoroughly. Stir together flour, cream of tartar, baking soda and salt; gradually add to butter mixture, beating until well blended. Stir in toffee bits. Stir together remaining 1/3 cup sugar and cinnamon. Shape dough into 1-1/4-inch balls; roll in sugar-cinnamon mixture. Place on ungreased cookie sheet. Bake 9 to 11 minutes or until lightly browned around edges. Cool slightly; remove from cookie sheet to wire rack. Cool completely. About 5 dozen cookies.