I love posting chocolate chip cookie recipes, but up until a few days ago I hadn't seen any that struck me as particularly unusual or better than the gazillion I've already tried. But along came Gesine's Perfect Chewy Chocolate Chip Cookies. Her chocolate chip cookies weren't that flashy in appearance, but from her description I could tell they were exactly the type of cookies I love when I'm craving thin, chewy in the center, crispy-edged, very buttery, almost toffee flavored chocolate chip cookies.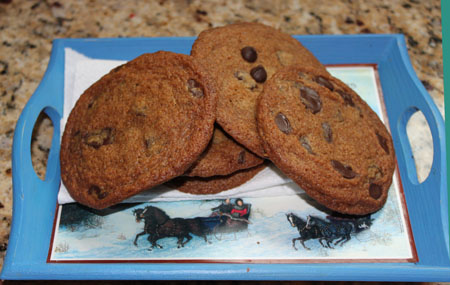 That's exactly what these are and if I had to give them a name, I'd call them Heathcliff cookies because they are dark and brooding until you bite into one and realize it's extra special. Anyway, I had fun making these and they are unique.
Gesine made these special by using a little bread flour, some egg white, both baking powder and baking soda, plus the magic touch — European style butter which I think is a key ingredient in this recipe. You can really taste it.
My only question to Gesine was about the salt. She uses a full 2 teaspoons, but I think she uses a salt the average baker may or may not have in the pantry. If you are using something like Morton, then you'll probably want to reduce it a bit even if it's Morton's extra fine sea salt or Morton Kosher. The three types of good Morton salt I had all weighed 4 grams per teaspoons. Some salts such as Diamond Kosher and other fancy salts weigh half that. If you are used to baking with fancy salt, you probably already know this, but if you're not familiar with the issue of brands of salt in baking, this article about brands of salt from the New York Times might be enlightening.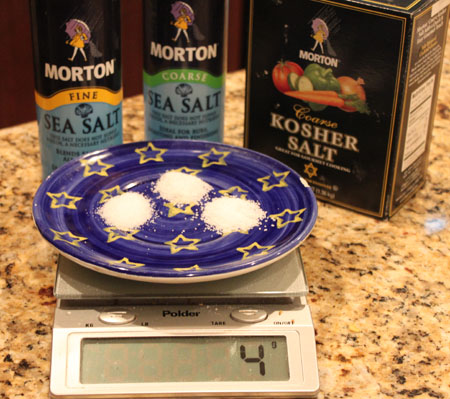 Okay, enough talk about salt. If you're in the mood for chocolate chip cookies, just make these!
Gesine's Perfect Chewy Chocolate Cookies — Click the link for Gesine's exact recipe
On the other hand, if a thin, dark, chewy cookie is not what you're after, here's a link to a recipe I discovered a few years ago right about this time of year. The cookie below is thicker, has crispy edges, is less chewy, moist in the center (but not cakey) and less toffee-like. It's similar to a traditional Toll House cookie, but better (if you follow the directions exactly as written and add the egg in tiny bits).
Santa's New Favorite Chocolate Chip Cookie
Update: This recipe needs some more testing. Mine came out super thin as did another readers. The flour and sugar amounts don't have weights, so maybe Gesine used heavier handed cups of flour and not-so-packed cups of brown sugar. She also used European style butter which has more fat and less water. This may be why hers spread less.