Happy New Year!
Sorry to start the year off with yet another key lime pie, but it's one of our favorites and I wanted to make this reduced fat version while the memory of the key lime pie made with Fiber One and Key Lime Pie flavored yogurt was still fresh in my mind.
This pie from Cooks Country had a completely different taste to it then the yogurt pie. It was quite sweet, very tart (which we like), lighter, and kind of stiff from the gelatin.   It also had a bit of chalkiness which a lot of key lime pie has and which can be delicious or annoying depending on your palate. I liked it, but tasting this one made me realize how much I appreciated the lack of chalkiness in the yogurt pie.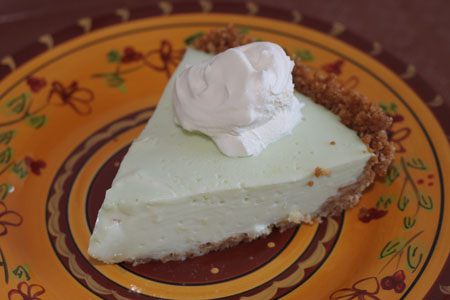 Here's the Cook's Country Key Lime Pie recipe.  They make you register to see it, but registration is free.