Ryan's Cinnamon Swirl Bread is a recipe I got from an 18 year old baker (at least at the time!) named Ryan. Thanks, Ryan! I've been using your recipe for 10 years now. I really need to update the photo.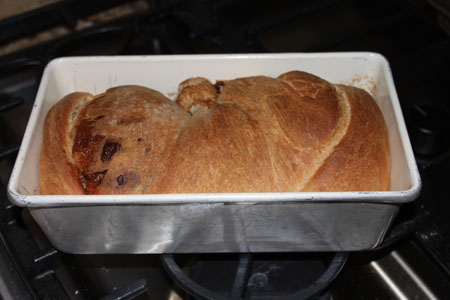 What is great about Ryan's Cinnamon Swirl Bread is the easy-to-work-with dough. It starts off a bit sticky, but after kneading it for 5 minutes with the dough hook of a stand mixer, it has the perfect consistency.
As for sweetness, it's about as sweet as the packaged kind (Pepperidge Farm), and while you could ice it, you really don't have to. It's perfect toasted with a little butter. Picky breakfast eaters in cupcake hats agree.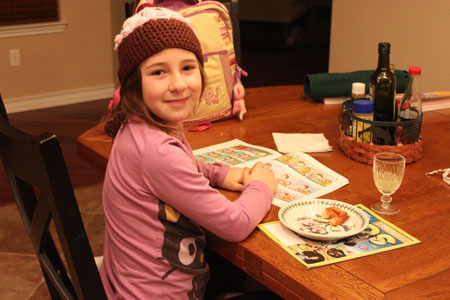 Update: Cupcake hat kid is now in college!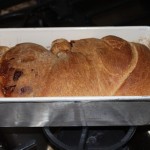 Print Recipe
Cinnamon Swirl Bread
I always make this bread with instant yeast or Platinum yeast. Both types of yeast can be mixed with the flour and do not need to be proofed before using.
Ingredients
4

cups

all-purpose or bread flour

18 1/2 oz

1/4

cup

granulated sugar

1

teaspoon

salt

1

.25 ounce envelope (2 1/4 tsp) instant yeast**

1

large egg

4

tablespoons

unsalted butter

very soft

1

cup

plus 4 tablespoons milk

1

teaspoon

vanilla extract
Filling:
6

tablespoons

melted butter for brushing

2 1/2

teaspoon

ground cinnamon

2/3

cup

very firmly packed dark brown sugar
Topping
Extra melted butter for brushing on the top
Instructions
Place 3 cups (12.5 oz) of the flour, sugar, salt, and instant yeast into the bowl of a stand mixer.

In a microwave-safe cup or in a saucepan, melt the butter and milk together until mixture is very hot. Let it cool down to about 130 degrees (measure with a thermometer for accuracy).

Stir in the milk into the flour mixture, then add the egg and vanilla and stir until mixed. You can do this by hand or with the paddle attachment of a stand mixer. I always do this by hand.

Add remaining cup of flour by quarter cupfuls until dough is no longer sticky. If you weighed your flour, you'll probably use it all. If you scooped, you might not.

Using dough hook attachment of a stand mixer, knead until dough is smooth and elastic.

Place dough in a greased bowl, cover, and allow it to rise in a warm place until doubled in bulk. With instant yeast, this takes 30 to 45 minutes.

Punch down dough and turn out onto a floured work surface. Roll HALF of the dough into an 8x12 inch rectangle. Brush with half of the melted butter. Mix together cinnamon and brown sugar, then sprinkle half of the mixture evenly over rectangle.

Roll firmly into a log, pinch the ends closed, and tuck them underneath. Place in a greased and parchment lined 8x4 inch loaf pan. Repeat with remaining dough and filling ingredients.

Let rise in a warm place until doubled in bulk (30-45 minutes).

Preheat oven to 350 degrees F (175 degrees C).

Brush the top of the loaves with melted butter, then bake in preheated oven until golden brown, and sound hollow when tapped, about 30 minutes.
Notes
I've been making this bread with Red Star's Platinum Yeast. It has dough enhancers, so the bread is extra light and rises very high. The mixing method I use works well with the Platinum yeast, but it should be fine with "regular" yeast as well. Just make sure the liquid is no hotter than 130F and no cooler than 120.