Here are a few more pictures from the trip. I tend to go to the same places over and over, then slip in a couple of new ones. One place I always visit is Chelsea Market. It used to be the Nabisco building, but now it houses offices and food stores of all types. The day the other bloggers went it was crowded, but I have a knack for going when it's very quiet.
Eleni's is one of my favorite stops in Chelsea Market.  They're known for their fabulously decorated sugar cookies.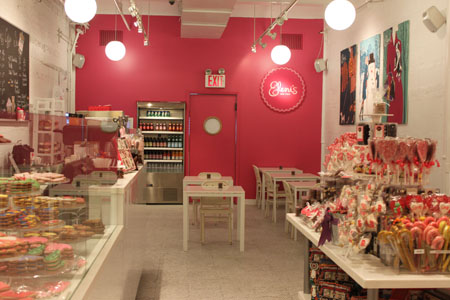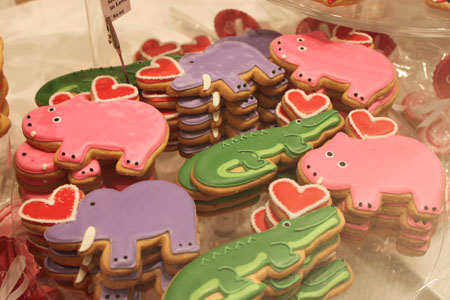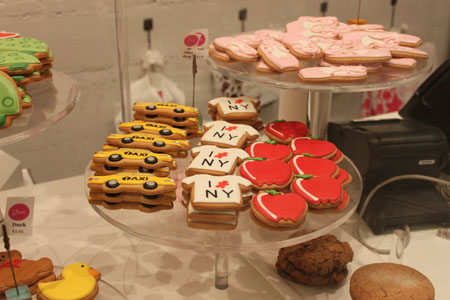 While their sugar cookies are pretty, my favorite cookies are their thin, crisp, crunchy, chocolate chip cookies which they package in little plastic cylinders. They also make good cupcakes — especially the raspberry.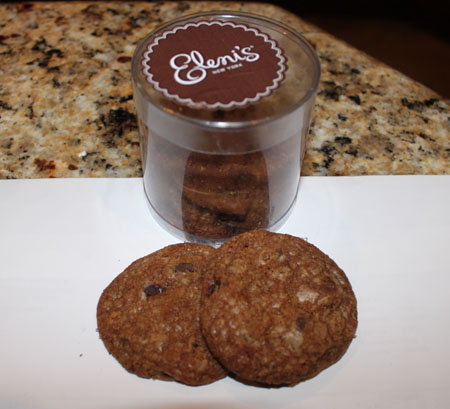 Chelsea Market has other bakeries including Sarabeth's, where I bought a cookie and took this picture. It has a whole different feel to it than Eleni's.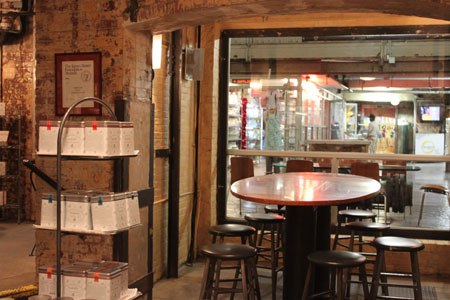 And I can never skip the Italian store, Buon Italia! One this trip I was hoping they'd have the elusive Fiori di Sicilia.  Nope.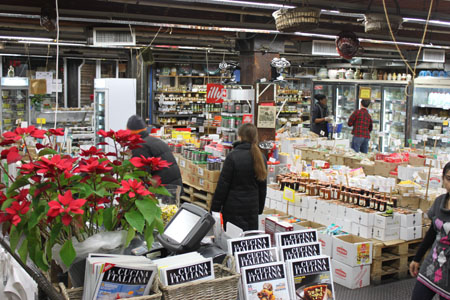 But they did have good prices on blocks of Callebaut chocolate!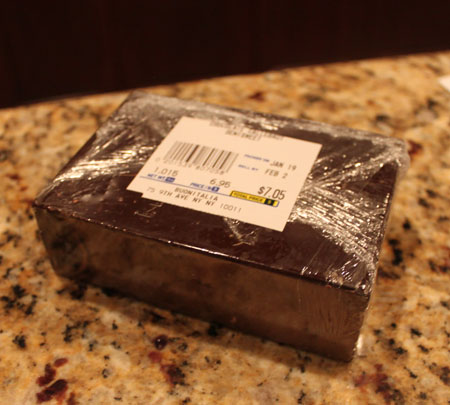 After Chelsea Market, I wandered over to The Village area in search of a little cupcake place called Sweet Revenge.   Amanda told me their cupcakes were amazing, so I had to see for myself.
When I finally found the bakery, I settled in for a cup of tea and checked my email. It's a very comfortable place to kick back and relax even though it's quite small. Below is a photo of the cupcake selection.  The idea is to pair the flavored cupcakes with some type of booze from Sweet Revenge's bar, but it was still too early for that.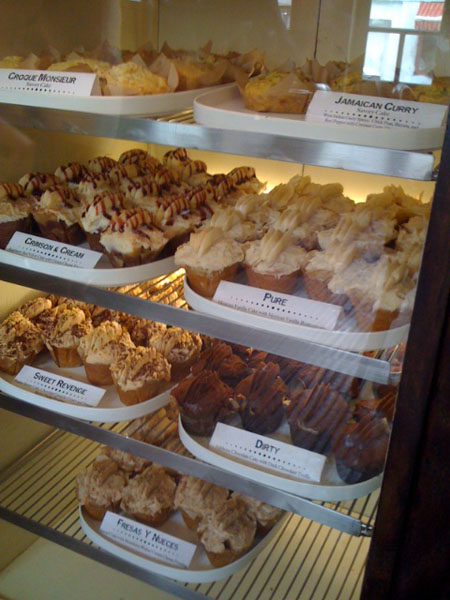 I wished I could have stayed and tried all the flavors, but I wasn't particularly hungry by that time and had to buy the cupcake to go. If you buy your cupcake to go, they smash it into a plastic cylinder so you can carry it home. Here's my "Pure" (vanilla flavored) cupcake. The cupcakes are more like pound cake, so if you like rich, sweet, pound cake these are for you. Other people I spoke with loved the peanut butter flavor and red velvet.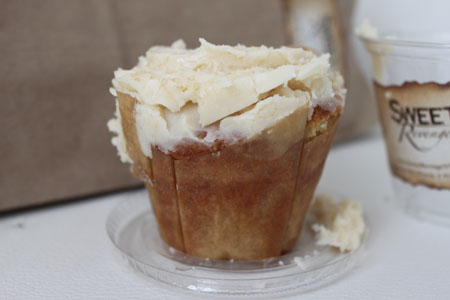 Later that day I stopped into Rockefeller Center's La Maison du Chocolate. It's quite elegant, but they let me in anyway and I bought some macarons. The macarons were very good for a chocolate store, the filling being better than the shell, but it's chocolate they're known for.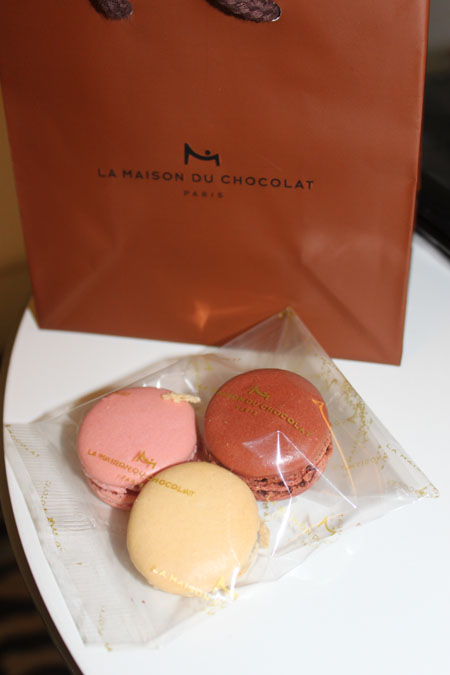 For macarons, the best I've ever tried are at Bouchon near Columbus Circle (or if you're in Vegas, The Venetian). They also sell $10 cylinders of granola, which for some reason I felt compelled to buy and am still eating.  Notice again the plastic cylinder.  It seems a lot of New York bakeries are using them these days.  I need to get my hands on some.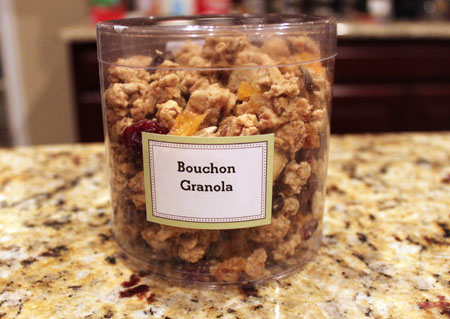 After all the walking around New York and visiting with the I Can't Believe it's Not Butter team, it was time to go home. Due to snowy roads, I had to take the subway to JFK and I was so happy with myself for having taken it to the city because it got me to the airport on time for my Jet Blue flight when the roads were closed to traffic. If you need advice on taking the subway to or from JFK, shoot me an email and I'll tell you how to do it. It will save you about $50 (more money for sweets).
But I did make it home safely. Jet Blue was at the airport on time, though they did have some delays getting to the gate due to ice. The animal cookies made up for it. Note they are the iced kind and not just plain? This was my first flight with them and I really enjoyed it. Also, if you ever find yourself trapped at JFK airport, try to get yourself trapped in Terminal 5. Apparently the restaurants there when multiple awards for airport food. No joke.