I have a million cupcake recipes, but when I need cupcakes for an event, I still find myself scrambling for the perfect recipe to fit the occasion. Luckily, that wasn't the situation this week. In fact, it was in reverse. I found this easy and good looking cupcake recipe, then got an email reminding me the Girl Scouts were meeting here. Perfect. In a matter of minutes, these were whipped up and in and out of the oven.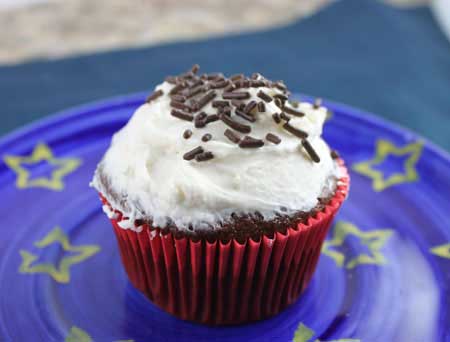 As for the icing, I was completely out of powdered sugar and decided to try no-powdered sugar vanilla icing. The icing isn't exactly quick, but it is easy if you have a stand mixer with a whip attachment. It takes a lot of whipping to get the sugar to dissolve, but with the stand mixer you can just leave it while you do other things.
The cupcakes were really good. You can't taste the lemon from the lemon juice (which is there to add acid) and they're definitely moist and light. The icing was interesting. It reminded me of a slick buttercream and had a very clean flavor, but it wasn't as good as true buttercream — something I need to practice making (the kind with egg yolks — not the recipe on the back of the sugar box).
Anyway, it's nice to have an easy scratch cupcake recipe like this. I plan on using it as a base cupcake while I work on interesting fillings and frostings (and getting over my issues with making true buttercream).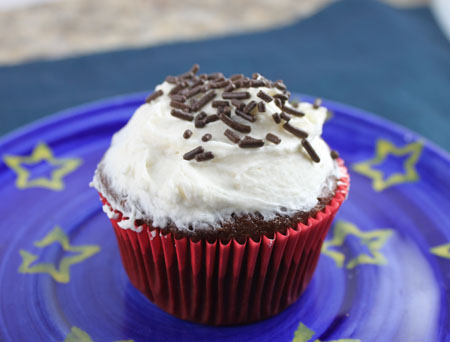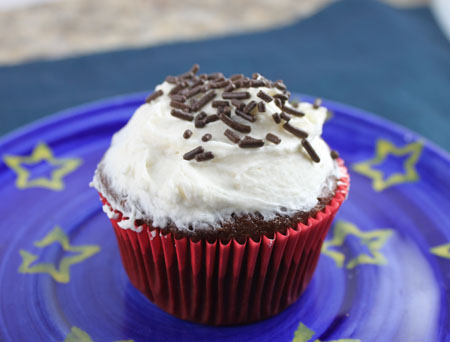 Quick Chocolate Cupcakes with No-Powdered Sugar Vanilla Icing
Quick Chocolate Cupcakes with a frosting that does not call for powdered sugar.
Ingredients 
2/3

cup

whole milk

2

tablespoons

lemon juice

1/4

cup

vegetable oil

3/4

cup

sugar

1

egg

1

teaspoon

vanilla extract

1/4

teaspoon

salt

1

teaspoon

baking soda

1/3

cup

unsweetened natural style unsweetened cocoa powder

1

cup

all-purpose flour

sifted after measuring (4.5 oz)
Buttercream Frosting (I halved it and got just enough for 12 cupcakes)
5

tablespoons

of flour

1

cup

whole milk

2

sticks unsalted butter

1

cup

granulated sugar

1-2

teaspoons

vanilla

Pinch

of salt
Instructions 
Preheat oven to 350 degrees F and line 12 cupcake cups with paper liners.

Mix together milk and lemon juice and set aside to curdle.

Beat oil and sugar with an electric mixer until smooth. Beat in

egg, vanilla, salt, and baking soda until well blended. Beat in cocoa powder. With a large mixing spoon or rubber scraper, stir in the flour alternately with the milk until flour is absorbed.

Divide batter equally between 12 paper-lined cupcake cups. Bake at 350

degrees for 25 minutes or until a toothpick inserted comes out clean.

Cool in pan on rack 20 minutes. Remove to platter to continue cooling.

Whisk the flour and milk together in a small saucepan. Cook over medium heat, stirring until it starts to thicken. Cook 1-2 minutes more. Turn into a dish and let cool.

Beat together the butter and sugar, then beat in the cooled roux 2T. at a time. Continue to beat until frosting turns creamy rather than grainy. This takes a while – probably 6 to 10 minutes. Add vanilla and salt and mix until light and creamy. Frost immediately. You can keep the frosted cupcakes in the refrigerator and let them come to room temperature before serving. I also left a few in a sealed container at room temperature overnight and they were fine.