We had a busy weekend, but I did manage to fit in Cook's Illustrated latest Boston Cream Pie, Wicked Good Boston Cream Pie.
If you haven't seen the article, it's worth buying the magazine for that alone. Andrea Gerry re-works the cake, which she says is often too dry, makes a less runny filling, and pours on a glaze that won't harden or turn brittle like some lackluster Boston Cream Pie toppings. At the end of the day, I'd say it was one of the best Boston Cream Pies I've made.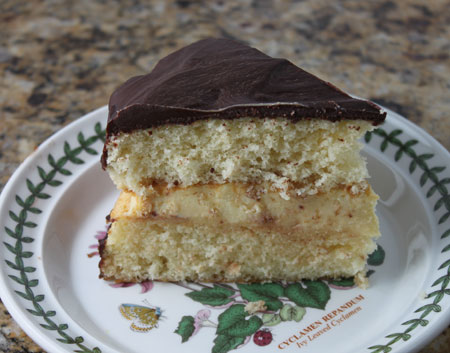 Normally I'd post the recipe, but since I didn't make any changes and the magazine is still "fresh", here's a link to Cook's Illustrated Wicked Good Boston Pie Recipe. You can sign up for a membership or just go buy the magazine. That, or you can just put Wicked Good Boston Cream Pie into Google. A few people have already posted it verbatim so you can get it from them.
In the meantime, I'd like to make it again with a few changes.
First off, I'd like a smaller cake. This one's going to take us a week to eat, but that's not CI's fault.
Second, I think Shirley Corriher's pastry cream recipe from Bakewise is still my favorite.  Hers makes a smaller yield so you have to make 1 1/2 times the batch size, but it's worth it. It's very smooth and the flavor reminds me of the inside of a Dunkin Donut Bavarian Creme. CI's pastry cream was good, though.   To be really fair, I'd have to try the two side-by-side.
Third, in Bakewise Shirley makes her cake with her "Magnificent Moist Yellow Cake" which is  my favorite yellow cake recipe.   CI was trying to be authentic and keep a more spongecake like texture, so they used a hot milk sponge cake with extra butter.  I can't complain too much because we all liked it, but the one I made with Shirley's yellow cake recipe had a little more flavor.
Finally, the ganache. Shirley uses Alice Medrich's Double Icing technique for pouring on ganache perfectly.  I didn't think to use that, but it might have been nice if CI touched on that technique since it's perfect for using with Boston Cream Pie.  Or maybe they did, but didn't agree.  Who knows?  Their ganache went on okay too.
I'm curious to hear what other people think of this recipe, so if you make it, let me know.