Today's red velvet cupcakes are from an episode of Throwdown with Bobby Flay, and they are my favorite so far. They are moist, bright red, and don't have too much cocoa powder to muck up the true flavor of "red velvet" which is not chocolate and in my opinion, kind of falls into a category of its own. In addition, the frosting on the Throwdown red velvet cupcakes is awesome. However, you're going to have some left over if you don't scale it down.
Here's a link to the original recipe from the show, and below is my adapted half batch version. I added the volume measurements since the original is given in weights.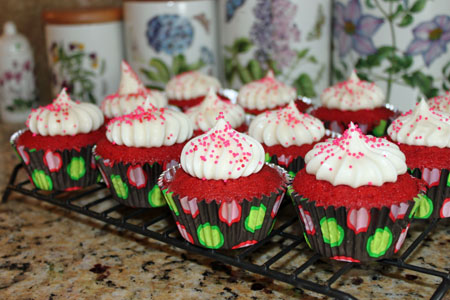 Also, the Throwdown Red Velvet Cupcakes recipe says it makes sixteen, but I halved the recipe and got 14 cupcakes so I guess the Throwdown competitors made them "jumbo".
UPDATE: I didn't realize there was a Throwdown cookbook, but the cupcake recipe is in it as well. Looks like a good book.
ANOTHER UPDATE: I had Todd do a taste test between these and the McCormick Cupcakes. He chose the McCormick recipe saying it tasted sweeter.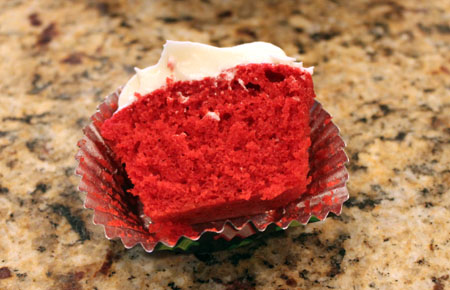 Red Velvet Cupcakes From Throwdown Episode
Red Velvet Cupcakes from Throwdown with Bobby Flay
Ingredients
7 3/4 ounces all-purpose flour (1 3/4 cups minus a teaspoon) -- better to weigh, though!
1/2 teaspoons plus 1/8 teaspoons baking soda
1/2 teaspoons plus 1/8 teaspoons salt
3/4 teaspoon unsweetened cocoa powder
3/4 cups vegetable oil
6.5 ounces granulated sugar (1 cup minus 1 tablespoon)
1/2 cup plus 2 tablespoons buttermilk
1 egg plus 2 tablespoons beaten egg
1 tablespoons plus 1 teaspoon red food coloring
1/2 teaspoons plus 1/8 teaspoons vinegar
1/2 teaspoons plus 1/8 teaspoons vanilla
1 tablespoon water
For the cream cheese frosting:
6 oz cream cheese, room temperature
4 oz butter, room temperature
1/2 pound (1 ¾ cups) powdered sugar, sifted
3/4 vanilla extract
Instructions
Preheat oven 350 degrees F. Line 14 cupcake cups with paper liners.
Sift together flour, baking soda, salt, and cocoa powder into a bowl and set aside.
With an electric mixer, beat oil, sugar, and buttermilk until combined. Add eggs, food coloring, vinegar, vanilla and water and mix well. Add the dry ingredients a little bit at a time and mix by hand until well mixed. Be sure not to overmix, or the batter will come out tough.
Scoop the batter into the liners dividing evenly (a little over halfway full) and bake at 350 degrees F for 20 minutes or until the toothpick comes out clean. Let cool.
For the cream cheese frosting: Whip the butter and cream cheese together in a mixer fitted with a paddle attachment until creamed. Gradually add powdered sugar to the mixture and scrape down the bowl as needed. Add the vanilla and mix until combined.