Three years ago I bookmarked a recipe for Chocolate Irish Cream Cake. It sounded good, but I was trying to focus on scratch cakes and never made it.
This weekend I was organizing my St. Patrick's Day recipes and came across the cake again. The post had no picture — just a recipe for the cake, and I felt a little sorry for it.  "Poor recipe.  You need a picture."  Besides, it sounded pretty good for a doctored cake mix cake, and I did have some Michael's Irish Cream in the refrigerator.
Now the entry has a picture.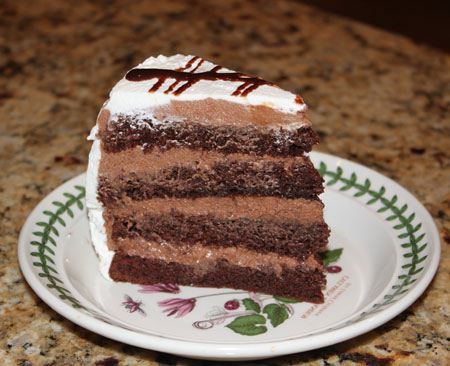 And I've found a recipe I can share with my friends who don't bake!
It had been a while since I'd made a doctored cake mix cake and I worried about doing it right. For instance, it called for extra pudding, but almost all the major brands of cake mix now seem to have pudding already added. Would more pudding make the cake be mushy? And what about the sides? This cake is two layers which you split and fill to make four. The sides weren't covered with icing, but rather garnished with chocolate curls. How would they stick? And how would I make them, anyway? I 'm still terrible at making chocolate curls. Then I came to my senses, reminded myself cake mix cakes were supposed to be easy and fun, and then just went with it.
To get the layers straight, I used a cake cutter. What a great tool, that is! I forgot I had one, but I found it in a box in the pantry.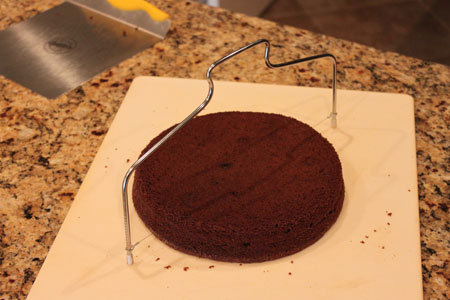 The naked sides were still an issue.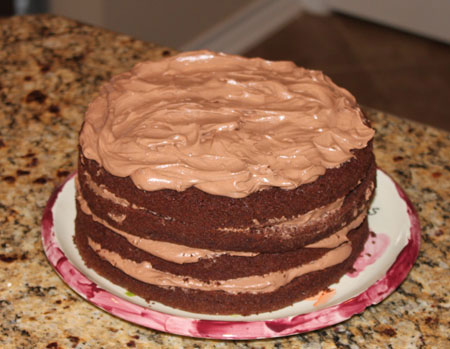 So in the end I used my not yet patented method of covering the whole thing with whipped cream and drizzling chocolate syrup on top. Aside from the irony of making a cake with 4 packs of Dream whip and 2 cups of freshly whipped cream, it turned out to be a pretty solid recipe and a very good cake (though I would like to make it from scratch, next).
Here's the recipe as I made it — pudding in the already-added-pudding-in-the-mix cake mix and all. In hindsight, I wish I'd dyed the whipped cream green, but I'll save that for another time.
Chocolate Irish Cream Cake
Cake:
1 (18.25-ounce) package chocolate cake mix
1 (4-ounce) package chocolate instant pudding mix
4 large eggs
1/2 cup Irish Cream (I used Michael's)
1/2 cup cold water
1/2 cup vegetable oil
Filling:
1 1/2 cups cold milk (I used 2%)
1/2 cup Irish Cream
1 (4-ounce) package chocolate instant pudding mix
1 (5.2-ounce) package Dream Whip — all four envelopes
Whipped Cream Topping:
2 cups heavy whipping cream whipped and sweetened to taste with powdered sugar (about 4 tablespoons) and vanilla OR Cool Whip if you want to keep the easy and convenient theme going.
Preheat oven to 350 degrees F. Spray 2 9 inch round cake pans with Baker's Joy.
Combine all cake ingredients together in a large bowl and beat at medium mixer speed for 2 minutes. Pour into prepared pans. Bake for 20 to 25 minutes. Do not over-bake. Cool in pans 10 minutes on wire rack. Remove from pans and finish cooling on racks.
Prepare filling: Combine all filling ingredients in a mixing bowl and blend well at high speed for 4 minutes or until light and fluffy.
Split layers in half and spread about one cup filling between each layer and on the top layer. Put the cake in the refrigerator and let it chill for a bit before you cover it with whipped cream. This will help keep the top layer of filling from spreading into the whipped topping.
Spread whipped cream (dyed green?) over entire cake. Drizzle with chocolate syrup.
Makes 12 servings.