This morning I made the Monster Marshmallow Cookies from Food Network Magazine. If you haven't seen the recipe yet, it's one of the most creative and imaginative contest winners I've seen this year. Interestingly, the category in which it won was not cookies, but rather Food Network Magazine's "Secret Ingredient" contest where they give you an ingredient (in this case, marshmallows) and you have to come up with a recipe that's creative and that people might actually make. This one's definitely tempting!
At first glance, a marshmallow cookie might not seem that innovative, but if you read the ingredients and technique, you'll see that this one is. The creator, Paula Marchesi , even managed to incorporate cayenne pepper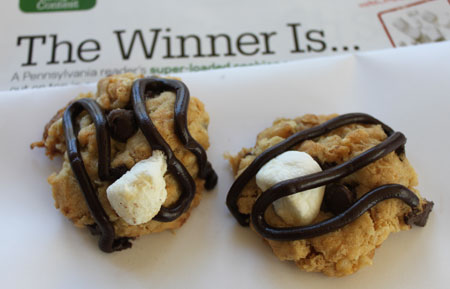 As soon as the magazine posts the recipe I'll add a link. As of this writing, I couldn't find it on-line anywhere and since it's hot off the press I'll wait for it to get around a bit or see if I can get permission.
Updated:  The link has been added above.  The magazine is worth buying, though. It's light and entertaining without being hokey — kind of a cross between a mainstream feature magazine and food magazine with focus on Food TV celebrities. Plus they give you a little booklet with 50 recipes in each issue.
Anyway, I do apologize for not posting the recipe yet. If you absolutely have to have it now, though (say your have marshmallows, rice krispies, cayenne, oats and a big chocolate craving), email me.