Having grown up in San Antonio, I've seen just about every variation on Mexican cornbread imaginable. While some versions are pretty much traditional cornbread stuffed with chili peppers (which I love), this version is a richer, denser, style that doesn't include flour and tastes almost like a cross between baked polenta and a rich egg/cheese dish. The key ingredient, and you will see it in just about every variation of this recipe, is the can of creamed corn.
This recipe is adapted from "Betty Ewing's Jalapeno Cornbread" in Best of the Best From Texas. While I stayed pretty true to Betty's, I did have to make a few minor changes and noted them at the bottom.
Todd wasn't a fan of this because he doesn't like cheddar cheese or eggs, but Fuzz and I liked it even though it was different than the kind of cornbread we're used too. In my opinion, this was much better served warm. Also, since it's so rich, you could cut it into little squares and serve it as an appetizer. My only regret is not adding the pimiento peppers for extra color. We were out.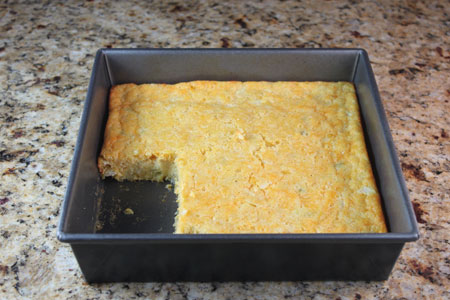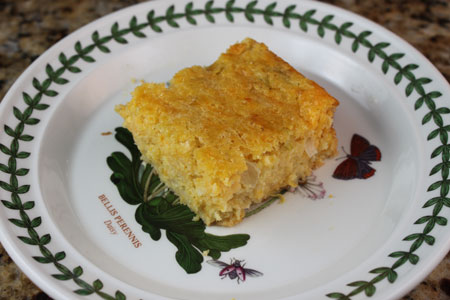 Mexican Cornbread
1 cup cornmeal
1 tablespoon sugar
1 1/2 teaspoons baking powder
1 teaspoon salt
2 large eggs
1/2 cup vegetable oil (Betty Ewing used bacon drippings)
1 can (14 oz) cream style corn
3/4 cup diced onions
2 cups shredded cheddar cheese
3 tablespoons canned chile peppers or ¼ cup chopped jalapeno, seeds removed
2 tablespoons drained pimiento (I didn't have any)
1 garlic clove, minced
1 tablespoon picante sauce (didn't have any)
Preheat oven to 350 degrees. Grease a 9 inch square baking pan with shortening or butter.
Mix the cornmeal, sugar, baking powder and salt together in a mixing bowl.
Whisk the eggs, oil and corn in a second bowl. Add the egg mixture to the cornmeal mixture, then stir in the onions, cheese, peppers, pimiento (if using), garlic and picante sauce (if using).
Bake for about 40 minutes at 350 degrees F.
Notes: I love jalapeno but the skin on my tongue doesn't so I had to use mild hatch chiles from a can. I'm sure any type of roasted chile would work, and the pimiento will add a lot of color. I left out the picante sauce and am not sure if it would have done much anyway.
If you want to try bacon drippings but can't or don't want to render a full ½ cup, mix a little bacon grease (whatever you can get) with enough vegetable oil to make ½ cup. That will give you a little bit of smoky flavor.