For Spring Break, we took our first-ever cruise on Disney's new ship, The Disney Dream.  I have so much to tell you, but I'm also looking forward to getting back in the kitchen so I'll try to keep it brief.  If you've never taken a cruise and want some info or if you're a seasoned cruiser who just wants to weigh in or share some tips, read on and please comment! I already miss The Dream.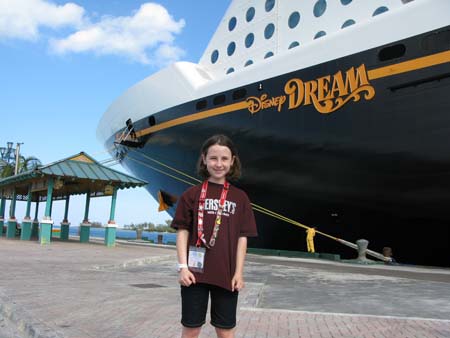 Some of my favorite childhood memories involve boating, but the idea of taking a cruise never appealed to me until about 2 years ago when I realized that cruising would be a good way to preview places before taking a ground-based vacations. For instance, I could get a quick taste of Norway, Denmark and Finland or St. Thomas, St. Maarten and St. John before committing to a week-long trip. Plus I'm at age where I appreciate the idea of "all-inclusiveness" and what better way to experience that then on a cruise?
But I didn't know anything about cruising. Nothing. So I reached out for advice from some of my favorite sources. Among them, friends and Cruise Critic, where I found information on all cruise lines to help me narrow down my choices to what I thought would be the best "first cruise" experience.  The decision was  a 3 night trip on Disney's new big ship. I figured that would be enough time to find out if motion sickness would be an issue, whether or not I could deal with the crowds, and if the food was as spectacularly mediocre as I'd imagined.
We booked months in advance, made arrangements to fly to Orlando, spend a day at Universal seeing the Harry Potter Islands of Adventure, then drive to Port Canaveral the next day. If you're dealing with the logistics, here's a tip. You can pick up a Hertz car at the airport or some hotels (Loews Royal Pacific Hotel has one on-site), drop it off at the Hertz office by the port, then pick it up a new car to drive back after your cruise. With a Costco discount, this was MUCH cheaper than using a driver, and we didn't have to worry about paying for parking.
Seeing the boat for the first time was pretty exciting, though I admit my heart jumps a little bit every time I see any big ship. Cruise ships, though, are the most breathtaking and Disney's ships maybe moreso. As silly as it sounds, when you're out on the open seas, it's kind of a nice feeling to be on a handsome ship.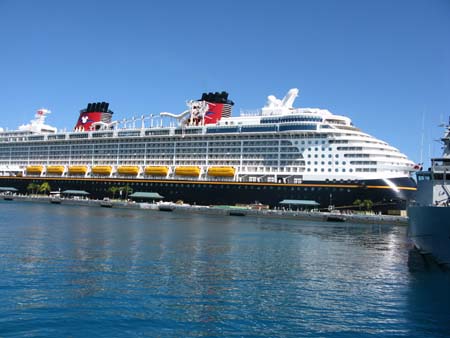 Yikes, I already feel like I'm going on and on too much. If you have questions about cruising or are planning one, feel free to shoot me an email or ask me here in the comment section. I'm just going to move right along to the pictures so I can get downstairs to the kitchen and start baking.
Okay, this picture is of the first meal we had before we even left the port.  After boarding The Dream, being greeted by name and fanfare (a fun Disney touch), we were sent to Deck 11 to have lunch and wait for our cabin to be ready.  On Deck 11 we found the pool, plenty of tables and chairs and Cabananas, the restaurant with  a buffet. It had just about everything you can imagine including lots of fresh fruits, salad items and cold cuts.  Or you could go with a hot meal.   Todd grabbed a lamp chop, asparagus and tomato salad.  We ate on the deck looking out on the sea and knowing this was going to be a fun three days.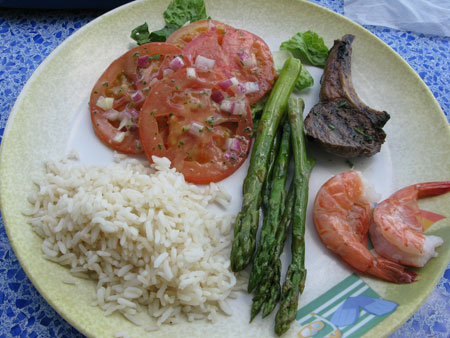 And then we went to the cabin. We are Disney Vacation Club members and had just enough banked and borrowed points to get a mid-ship cabin with a veranda. I'd heard mid-ship was good for people prone to motion sickness, but as it turned out, I felt no motion sickness during the entire cruise, which was a huge relief since the Harry Potter ride back at Universal had put me over the edge the day prior.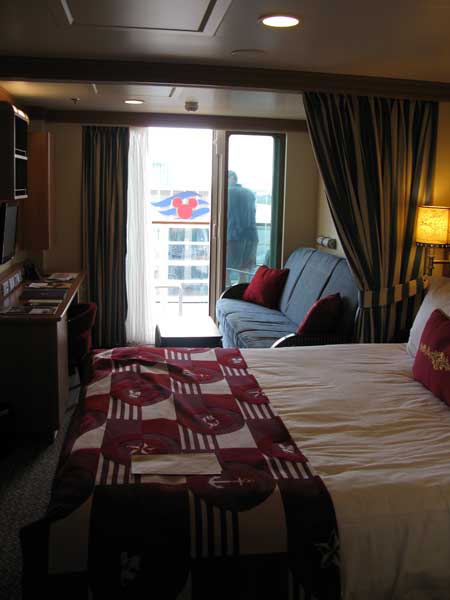 Here's one of the bathrooms. Disney divides the bathrooms so that one has a toilet, mirror and sink while the other has the small bathtub/shower, mirror and sink.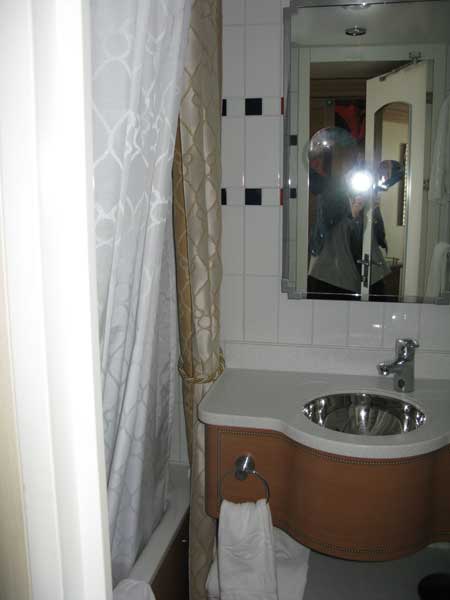 I think the cabin was about 250 square feet. After staying in New York hotel rooms, it didn't seem that small!
Late in the afternoon, the ship left port. Fuzz was dying to go play in Disney's spectacular Kids' Club, so Todd and I took a walk around the ship. Our assigned dinner time was 8:30 (we chose the latter as opposed to the earlier 6:30), so we had a lot of time to explore.
First, we stumbled onto a Bingo Game (I won $90 but had to pay $40 to play), then found a theater where a show was beginning. The first show was called The Golden Mickeys. To be honest, I wasn't that excited about seeing a Disney show, but the sets really were spectacular and the actors and singers top notch. In hindsight, I'm glad I saw a lot of good singing and dancing rather than a not-so-great comedy act or dated cabaret type thing. Later, I heard the comedian on board the ship (a hypnotist) was super funny.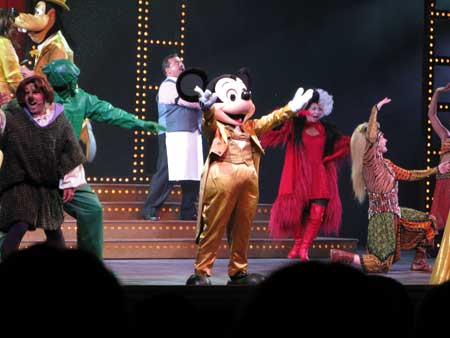 After Bingo and the show, we started getting hungry and taking pictures of Rice Krispies Treats in the gift shop.  Finally, it was dinner time.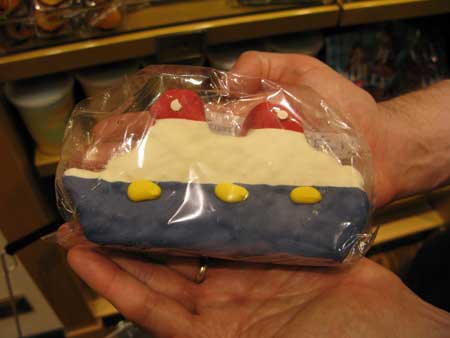 We picked up Fuzz from the Kid area and had dinner at our assigned restaurant, The Enchanted Garden. Being assigned to a table with strangers was interesting.  Disney worked their magic and paired us with a nice family of three from Nashville. We got to know them pretty well, as they were our dinner companions for all the dinners on the ship save for the one Todd and I booked at Palo, the specialty restaurant for adults only.
I didn't take pictures of our companions or mention anything about blogging, but I did take a photo of the dessert. The food was fine, like something you'd eat at a wedding, but the desserts seemed kind of hit or miss.  At this restaurant, my recommendation is to go for something with ice cream, like the bananas foster dessert our companions ordered. That, or a Mickey Mouse Ice Cream Bar. Most restaurants will serve you one of those for desserts if you just ask.  I didn't know that at the time and ordered this trip of mousse, cake and cheesecake.  It looked pretty, but again — go for the ice cream.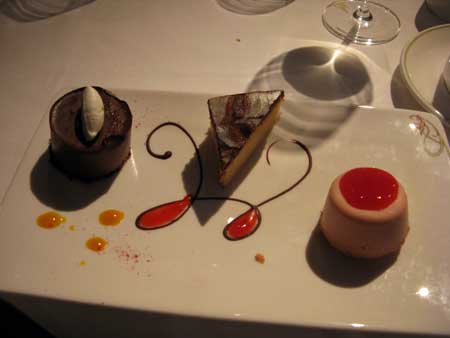 The late dinner seating ended around 10:30, so we just walked around a bit then went back to the cabin to read and go to bed. If you are big into night life, there's plenty to do and a lot of it is geared for adults only. However, since we'd planned to wake up early and go explore Nassau, we didn't really take advantage of the late night night options.
Okay fast forward to the next day.
I don't think I'd ever go on a cruise without a veranda. Waking up in a new place, having breakfast on the veranda while reading the Personal Navigator describing they day's events on the ship was one of the highlights of the trip; and on a cruise, you can get room service every day for free! Disney's room service breakfast includes a nice variety of cold cereal, milk, juices, fresh fruit, all types of baked goods including muffins. We ate a lot of these little fruit muffins.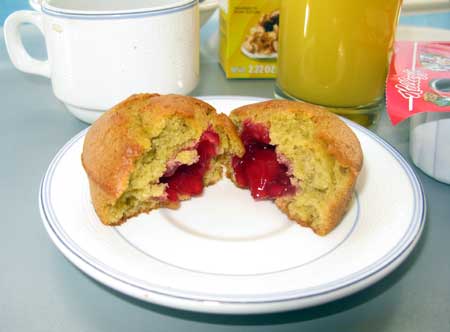 That big building in the background is The Atlantis.  I didn't take my good camera on this voyage, so I apologize about the over exposed pictures.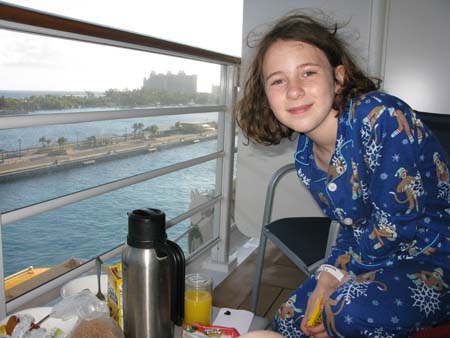 I also didn't take a lot of pictures of Nassau.  We've been to Nassau quite a few times on ground trips and know our way around, but our goal this trip was to go to the courthouse and find the justice of the peace who married us 12 years ago to say hello.  We made it to the office where he worked, but it turns out he died.
After that we just walked around Nassau kind of aimlessly until we met a few locals who when finding out we were from Austin, asked us if we knew Alex Jones.  We talked about Infowars for a while, said we'd give our regards to Alex, then moved on.   Austinites abroad, be prepared to discuss Alex Jones and The Bachelor, Brad Womack.  I don't live under a rock, but I had no idea he was from Austin….or that his name was Brad Womack.  Now he's everywhere!
Okay, enough of that.  Here's a nice photo of the ship.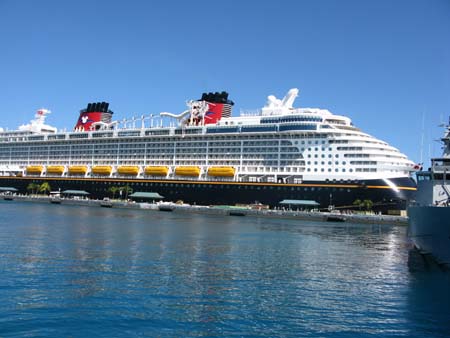 We got back on it around noon and had lunch again at Cabanas where anything goes.   I'm not a "more is better" type eater, but apparently I do love variety because I was thrilled to have so many choices during every meal. And while some of it was kind of "eh", there were other dishes that were really good.  Cabanas actually had some of the best food on the ship.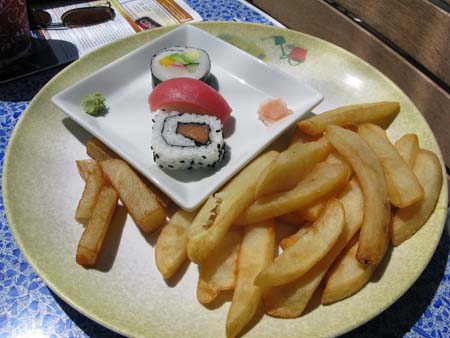 After our second buffet lunch sitting on deck looking out at the other ships docked at Nassau. The Norwegian Epic was on one side of us…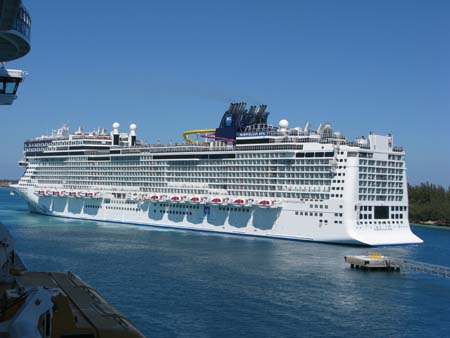 …while our neighbor of the seas (we'd often see her off in the distance), The Carnival Sensation, was on the other.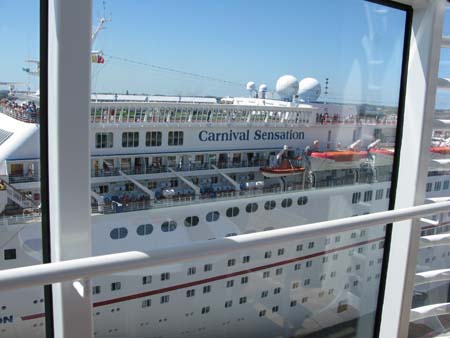 And then it was time for The Aquaduck and more fun by the tiny, tiny, pool. For such a large ship, The Dream really does have a small pool, but Fuzz didn't care.  Here she is enjoying the dance party.   One of the kids in the photo was someone she'd met the night before at the Kids' Club. Making friends on the ship was a HUGE deal for a 9 year old girl and she's been talking about her new friends for days.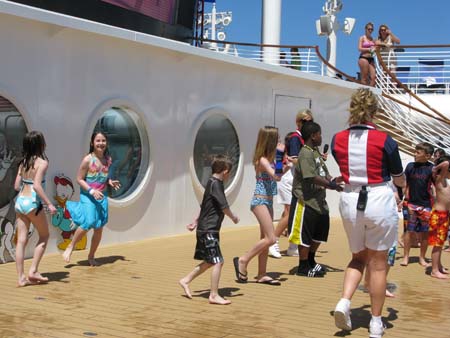 That night Todd and I had an excellent dinner at Palo where we were waited on by Safit from Bosnia. He was great. All our servers were awesome. Most were from eastern Europe, so I picked up tons of travel tips for future vacations and am dying to go to Hungary.
Didn't take any pictures at Palo (Todd might have, and if he did I'll post them later), but you really can't go wrong with anything on the menu. Email me if you have questions.
Also that night, after picking up Fuzz from the Kids' club where she'd made chocolate chip cookies, colored a pillow case and listened to a comedian, we went to a big pirate party on the top deck and watched fireworks.  I think The Dream is the only ship that does fireworks at sea and they are pretty darn cool.
Fast forward again to next day.
We woke up docked at Disney's private artificial island, Castaway Cay. This, surprisingly, was my favorite port. Todd and Fuzz went parasailing (I got back on the ship and watched from Deck 13), then we walked over to the island and had lunch at Cookie's barbecue. Cookie's was another buffet type affair with offerings such as couscous salad, corn, ribs, chicken, etc. Second to Palo, I liked the food on Castaway Cay. The chocolate chips cookies were excellent.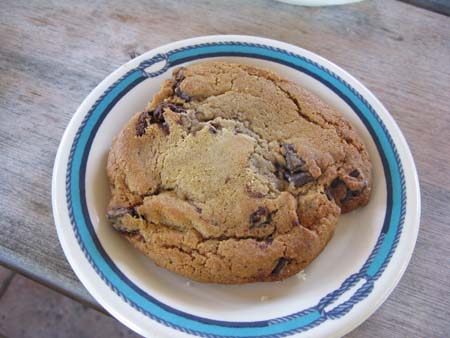 The apple cake was interesting. It tasted like a packaged snack cake, but fresher and very light. Or maybe I was just super hungry.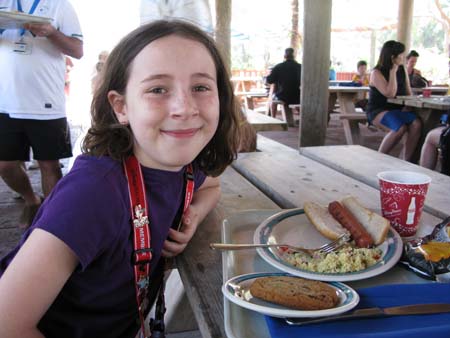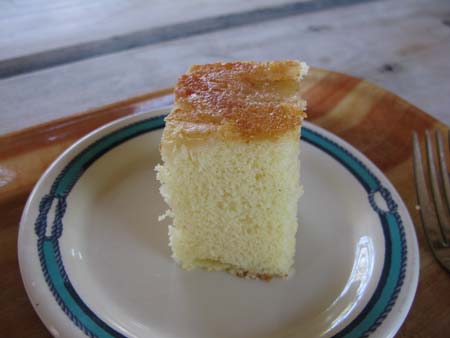 Fueled up, we found the place with rental bikes. Austin is a big bike riding town, but the only person in our family who rides a bike is Fuzz. I hadn't ridden a bike in quite a while, which made this excursion even more fun. The trails included an old airplane runway which veered off into more shady trails that led to a beach. We rode until we were tired, then headed over to the big slide so Fuzz could do some swimming before getting back on the boat.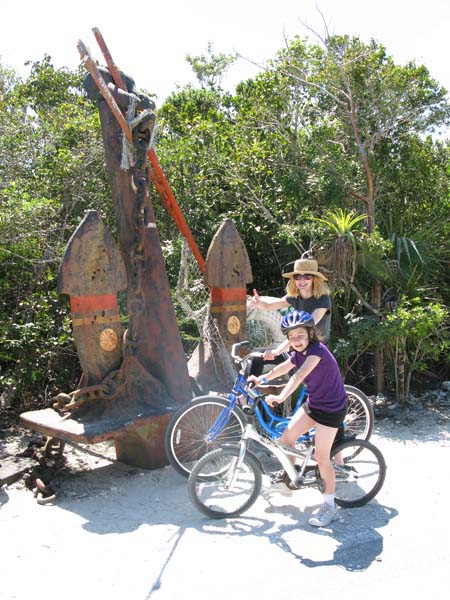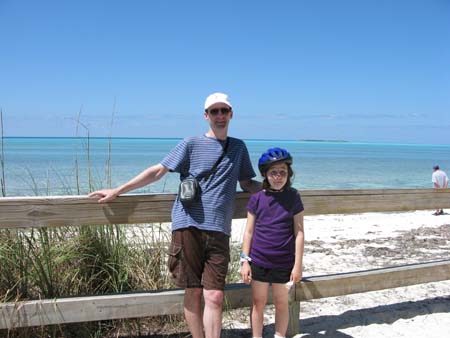 Fuzz refused to get into the water because she saw all the fish. Ha. Back to the boat we went for more riding on the Aquaduck and exploring.
Here's another tip. If you don't want to stand in line for the Aquaduck, plan on riding it in the morning before noon when everyone is heading over to Castaway Cay. Deck 11 clears off until about 1:30 or 2:00. The line goes back to its usual 30-40 minute wait by 3:00. Or at least that was our experience. As we departed, I heard some little kids saying "Bye bye, Aquaduck. Sorry we never got to ride you.". That was kind of sad.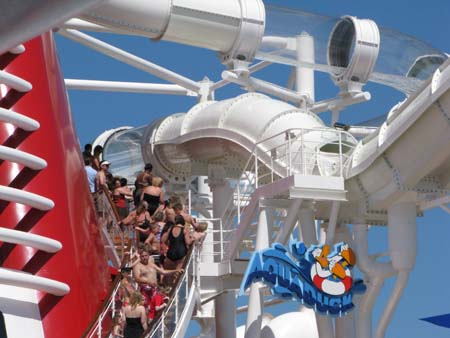 On our last evening, we had our picture taken with the captain of the ship. He's from Sweden.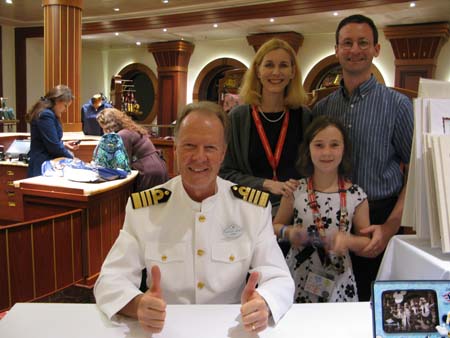 Then we had a final dinner with our Nashville friends, took the girls to the gift shop for a sword fight, and went to bed very SAD to be leaving.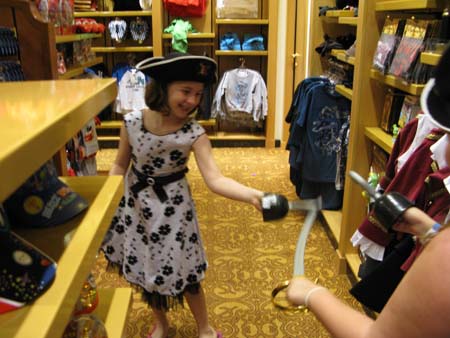 Oh, let me back up a bit.  The last meal was at Animator's Palate and I enjoyed the food there more than Enchanted Garden (I never got to try Royal Palace).  Everyone loves Animator's Palette and I liked our servers and company.  As for the atmosphere, it's kind of crazy with SO much going on in every corner and talking turtles on the wall.  I kind of felt like my head was going to explode.    Still, the kids enjoyed it and I had a glass of wine so I was able to deal.  But oh my was there ever a lot going on in that room.
And this is a good time for me to mention that for more details on the food and Disney Dream Restaurants, check AJ's Disney Food Blog.
Disembarking was pretty easy. We put our bags out the night before and kept day bags in our rooms.   The next mornings they had us all go to breakfast at a now much quieter and relaxing Animator's Palate, where we said goodbye to our servers and ate our glum (but tasty!) departure breakfast.
Then there was more standing in line, showing ID, then we were back on land.
We're officially cruise nerds at this point, so if you want to comment on cruising or share tips or memories of your own, I'd love to hear them.  My big dilemma is do I book Disney again or try another ship?  Celebrity Solstice seems like something we'd like, Seven Seas is supposed to be incredible, but it will be hard to break away from Disney and Fuzz is absolutely enchanted.  I don't think I've ever seen her smile so much — not even at the parks.