This weekend I tested my favorite cream cheese brownie recipe a against another brownie recipe from The Texas Country Reporter cookbook.
While I love the old one, this new one was packed with walnuts which toned down the sweetness and added more texture. Plus I made adjustments. I toasted the nuts, threw in some almond extract for subtle flavor undertones (a little goes a long way), added chocolate chips and made the cream cheese layer a bit more tart by adding sour cream. The brownies were excellent. The cream cheese layer didn't brown too much and the brownies had a fudgy, dense, texture. I l enjoyed these quite a bit even though they weren't as tart and cheesy as my favorites. And because they are sweeter and don't have such a huge proportion of cheesecake, they might be even more of a crowd pleasing than the others.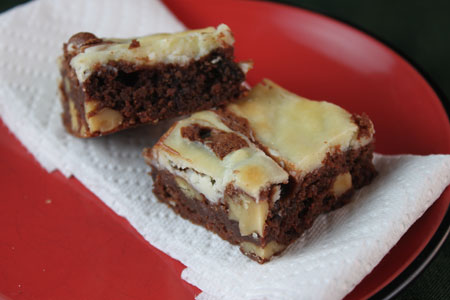 Summary: Chocolate fudge brownies marbled with a layer of cream cheese and sour cream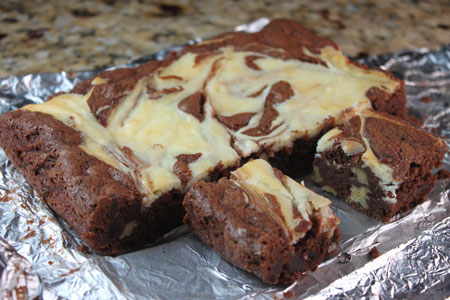 Ingredients
1 cup walnuts
4 (1-ounce) squares unsweetened chocolate (114 grams)
6 oz /160 grams butter, softened
2 cups granulated sugar (392 grams)
3 large eggs
1/2 teaspoon salt
1 teaspoon vanilla extract
1/2 teaspoon almond extract
1 cup all-purpose flour (126 grams)
3/4 cup semi-sweet or dark chocolate chips

Filling:

1 (8-ounce) package cream cheese softened (230 grams)
2 tablespoons sour cream (30 grams)
1/3 cup sugar (60 grams)
1 large egg
1 teaspoon vanilla extract
Instructions
Preheat oven to 350 degrees F. Line a 13×9 inch metal pan with foil and spray foil with cooking spray.
Lay the walnuts on a cookie sheet and toast for about 8 minutes or until aromatic. Remove from oven and let cool. Chop.
Melt the chocolate in a microwave –safe bowl (50% power for 1 1/2 minutes, stirring every 30 seconds) or in a bowl set over simmering water. Set aside to cool.
Prepare filling first. Beat cream cheese, sugar, sour cream and vanilla in a small mixing bowl with a hand-held mixer. Reduce speed to low and beat in the egg. Set aside.
Prepare brownies. Beat butter and granulated sugar in a large mixing bowl for about 3 minutes. Beat in eggs, one by one. Beat in melted chocolate, salt, vanilla, and almond extract. By hand, stir in the flour until it is incorporated, then stir in the chopped walnuts and chocolate chips.
Spread chocolate mixture evenly in pan. Drop spoonfuls of filling over brownie batter, then very lightly drag a knife through to make the batter look marbled and blotchy – I don't drag it too much because I like big clumps of cream cheese mixture.
Bake at 350 F. on center rack for 45 minutes.
Let cool completely, then chill for a few hours.  Lift from pan and cut into 24 squares.
Quick Notes
These are best on Day 2, but still taste great on Day 1. Also, the cook time I've listed is prep time and bake time. If you include chill time, it's longer.
Variations
Use a different type nut
Cooking time (duration): 60
Diet type: Vegetarian
Number of servings (yield): 12
Meal type: dessert
Culinary tradition: USA (General)