I first tried cake balls while judging a baking contest. My fellow judge, or to be more precise, the person teaching me how to judge because I didn't have much experience, was Jacquy Pfeiffer. If you recognize the name chances are you've seen Kings of Pastry. And if you have seen Kings of Pastry, then you can surely recognize the absurdity of Cookie Madness and co-founder of the Chicago Pastry School discussing cake balls, most of which tasted like they'd been made with cake mix. Despite their flavor, the cake balls were very pretty — unlike the ones I've tried to make. In fact, I'm about to give up. I've tried four different brands of dipping chocolate, using tooth picks to dip, freezing the balls before dipping, double dipping, spooning the chocolate on top, and I still can't get my cake balls to look good.
Here's a picture of the ones from today. Putting them on ice cream cones and topping them with softened chocolate icing makes them passable, but still….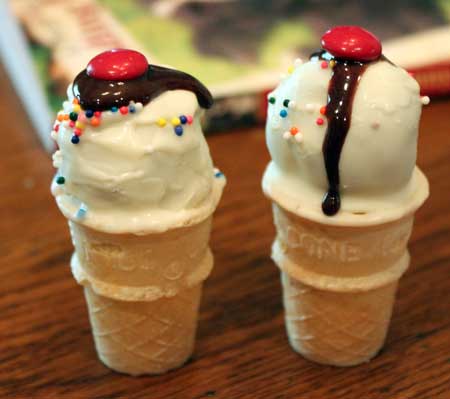 I'm about to throw in the towel and stick with regular cake. Speaking of which, if you're looking for a good recipes to eat or to smash into cake balls and dip in chocolate, Glazed Chocolate Cake with Sprinkles is a good one.