Hi everybody! This is Todd, Anna's husband, filling in for a quick guest post. Unfortunately, Anna isn't feeling so great and hasn't been able to bake anything for the last couple of days.  Hopefully, she'll be back to her old self soon.  I sure hope so, I can't cook and I'm going to starve without her.
I would love to provide you with a recipe today, but you'll be better off if I don't.  Trust me on that.  Instead, our dog's namesake's grandson got married today over in England, so I figured I would share a couple of pictures of Lizzie the Corgi.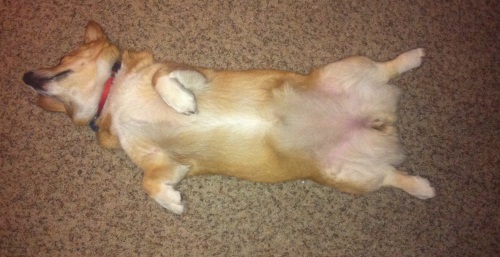 As you can see, she likes to sleep on her back.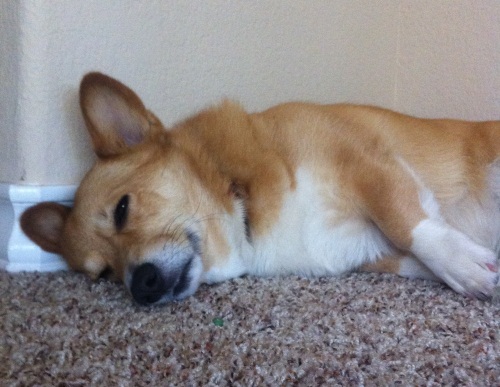 Lizzie doesn't let me take a lot of pictures of her.  She usually sees me pointing my phone at her and runs around, which makes my Lizzie the Corgi photos fall into two categories: blurs and sleeping.
While I'm here, I wanted to show you this picture of a really neat looking cloud I took while we were out on a walk the other day.  It turns out a lot of people saw it and did the same thing.  There's even a web site dedicated to pictures of this one cloud! When I took this, the sun was behind us, so the cloud looked like it was glowing.  I have a picture from about five minutes before this one and the top of the cloud is pure white and the bottom is glowing bright orange.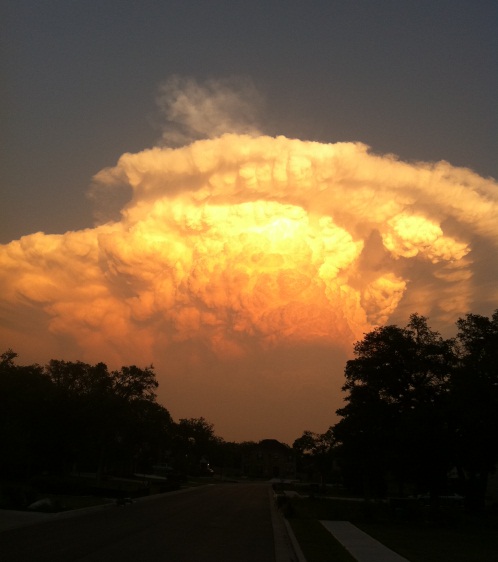 Anyway, like I said, hopefully Anna will be back to normal soon.  Otherwise, you'll be getting pictures of corgis and poorly written recipes, mainly involving heating things up exactly as the packaging indicates.