If you see a copy of the new Cook's Country Magazine, make sure to pick it up! Mine came in the mail yesterday and it's loaded with good stuff. There's a fried chicken recipe that looks interesting, a small (loaf pan size) lasagna, and at least three desserts which I plan on making; one in particular being a SCRATCH VERSION OF CHOCOLATE ECLAIR CAKE! Yes, I am so excited about this recipe I had to use all caps. I'm in the process of making it today and will let you know how it is, but for now, here's a photo and recipe of the pudding version. If you've never liked tried chocolate eclair cake, I highly recommend it. It's made with run of the mill ingredients like pudding mix and Cool Whip, but its one of those recipes in which the whole really is better than the parts.
Here's my current recipe for the small batch version where I use an 8 inch square dish. Most recipes are double this and made in a 13×9 inch dish. The Cook's Country recipe is also made in a 13×9 inch dish, but I'm halving it as well and will type up the half batch version for you (if it's any good).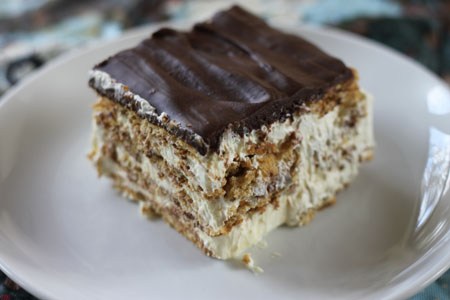 Small Batch Chocolate Éclair Cake
1 (3.4 oz) box of Jell-O instant vanilla pudding
2 cups milk (2%)
1 (8 oz) tub Cool Whip (I usually use a little less than a full tub) or you could use 1 cup whipping cream, sweetened with some powdered sugar
1/2 a box graham crackers or however many you need to make 4 layers
1 cup prepared chocolate icing – you can make it from scratch or use 1/2 can of store-bought
With a hand-held mixer or whisk, beat together pudding mix and milk for about 2 minutes. Pudding should start to thicken. Fold in all or a little over half the tub of the whipped topping or freshly whipped cream.
Break the graham crackers into squares and lay them across the bottom of an 8 inch baking dish. You'll need to break some of them to cover the bottom of the dish. Spread the pudding mix across the graham crackers. Layer on more graham crackers and more pudding mix twice so that you have a total of 3 layers of graham crackers and three layers of pudding mixture. Top with a final layer of graham crackers.
Soften the icing. If you're using canned icing, microwave at 50% power for about 20-30 seconds or until the icing is softened. Pour half the can over the dessert. Chill for at least four hours (preferably longer) or until ready to eat. Serves 6 (ish)