Hello from the BlogHer Food Conference, where I'm soaking up information and meeting new people. 
My secret plan of sneaking out to the Georgia Aquarium and catching the dolphin show hasn't panned out, but Charlie Tuna is here and posed for a picture so I guess that makes up for it. And there are other interesting sponsors:  Quaker handed out cereal, Bob's Red Mill is passing out couscous, Scharffen Berger is being very generous with their samples, the Mango people are holding a mango cutting competition, and representatives from the United Egg Producers are taking names of bloggers interested in touring hatcheries this fall.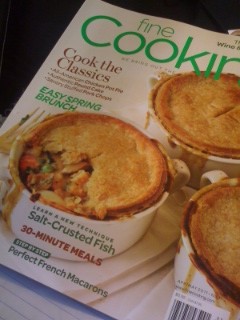 But here's why I'm posting this morning as I drink my hotel coffee and eat a Zone Perfect bar and dry Fiber One.
Fine Cooking Magazine gave us free copies of the April/May issue, and one feature is a step-by-step article on making French macarons. If you've been interested in making macarons but intimidated by the process, you have to take a look at this tutorial. I can't wait to give it a try when I get home.  If you try them before I do, let me know!
Related posts: