It took me a while, but this weekend I finally made the Parisian style macarons I'd vowed to try after tasting some at Bouchon Bakery. The fact Todd had fallen in love with them was a key motivator, and I figured Father's Day would be a good excuse to try making one of his new favorite cookies.
Not to be confused with the usual chewy coconut macaroons, the type to which I'm referring are classified as "Gerbet Macarons" (also spelled "macaroons") or "Parisian Macarons" and made with egg whites, sugar and a mixture of almond flour and powdered sugar that's been pressed through a sieve. The ingredients are very simple, but it's the prep work and technique that kept me from trying my hand at this sooner.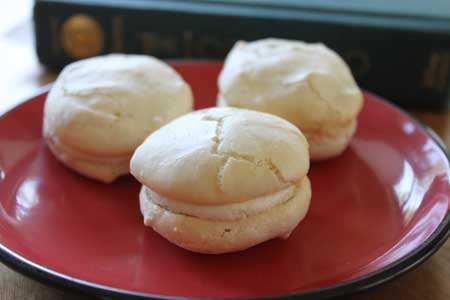 First, you have to decide whether to spend $12 on almond flour or grind your own in the coffee grinder. I opted for the latter, which worked perfectly even though I'd worried the grind wouldn't be fine enough. Next, you need to have a half inch piping tip. The last time I was at the craft store, they were out and I now have every size tip but 1/2 inch. I decided to just skip the tip. And finally, you have to commit to making a true, buttercream — another recipe that's always been intimidating for me. Sure, you can use ganache or lemon curd, but in the few years that I've been eating macarons, the buttercream is the best part and I wasn't sure I'd be able to duplicate the ultra-smooth, not-too-sweet type found in macarons made at bakeries like Bouchon, whose macarons might be the best outside of Paris.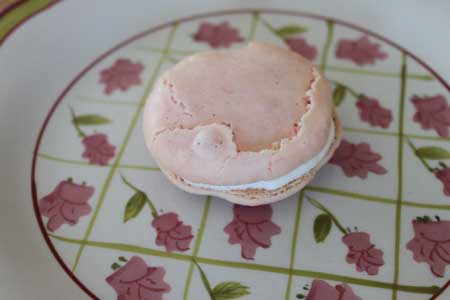 So back to the ones from our kitchen. Using Joanne Chang's recipe and macaron-making tutorial on Fine Cooking, I made a batch that was similar in texture (though I haven't quite nailed down the flavors….that's step 2) to Bouchon's. Though they weren't perfect. I made the first batch too fat. The second batch, to which I'd added a little raspberry extract and red gel paste, ran a little and baked as ovals (not pictured), and I felt like the macaron base could have used a tiny pinch of salt and some flavoring.  I did add a little  vanilla. Still, for a simple Macaron Making 101 tutorial, this recipe was perfect. Even the buttercream came together with ease, and I've thrown out my share of bad batches of buttercream.  I think the credit goes to Joanne Chang and Fine Cooking for explaining how to make it in a simple and straightforward fashion.
If you've been thinking about making your own macarons but just haven't felt ready to roll up your sleeves and do it, I recommend this recipe as a primer.