I'm never quite sure what to write about in trip reports, especially when it comes to Connecticut and New York. With family in CT, we always combine the two states, but my guess is most people are going straight to New York. With that in mind, I'm only going to touch on a few things we did in lower Fairfield County. If you have any questions about the area, feel free to email me. Hopefully this trip report will be useful to someone in the midst of making plans.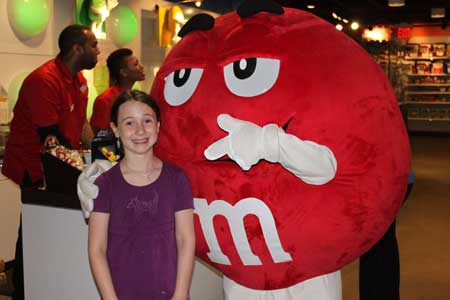 In Norwalk, we stayed at our favorite area hotel, The Norwalk Hilton Garden Inn. It is very clean, fresh cookies are served upon arrival, and it's central to all the towns we visit. If you ever find yourself in need of a hotel in Norwalk, look no further. I almost tried a different one this trip, but chickened out after reading reviews. I'm glad we stuck with our old favorite.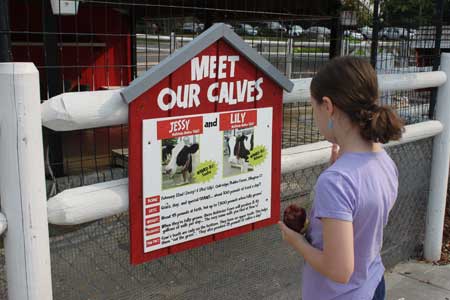 During our stay, we did our usual Lower Fairfield County things such as eating at Chuck's in Darien, visiting the Barnes and Noble in Westport, shopping in New Canaan, and visiting the cemetery. We also took a quick stroll through Stew Leonard's, had hibachi with good friends at a place called" Kobi's", tried a new place in Sono called Bacchus which was really good, then ate ice cream with all the high school kids at Carvel.
As mentioned earlier, I also took a ride out to Taunton Press with my friend, Lisa. Taunton's headquarters are relaxing and pretty with a lot of natural light and trees. It was very rainy, however, so we just saw a few areas including the test kitchen, the library and the lobby. But those are the best areas, right? I've toured my share of test kitchens these past few years and while they are all sleek, I loved how Taunton's was more compact. It seemed like a fun place to work.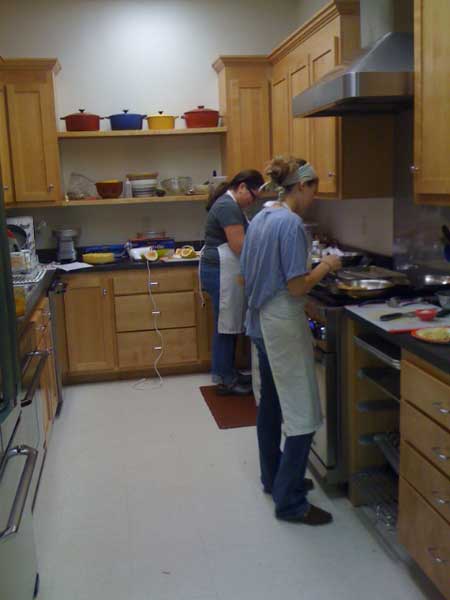 After saying goodbye to the gang at Fine Cooking, we drove home and had a long discussion about living in different communities (Lisa's moved a bunch of times), food ideas, using Pop Rocks in recipes and how difficult it is to find root beer extract in Fairfield County. Fun times, eh?
So that was the Fairfield County part of the journey. Now I'm going to fast forward to the New York part for those of you going to the city and looking for tips.
Okay, tip number one. Don't fly Jet Blue because I want them all to myself. Have I mentioned how much I love that airline? We flew direct from Austin, TX and the flight was about as seamless as it could be. Plus they have a nice terminal at JFK.
For this visit, we stayed at The Omni Berkshire. The area was more peaceful than Times Square, close to the Museum of Modern Art and Rockefeller Center, but not particularly convenient to the subway lines and kind of dead after 10:00 PM. Other than that, it was a nice hotel for families and the room was a good size. I think my all-time favorite hotel is still W Union Square, though.
After arriving and getting settled in, we bought umbrellas from some guy on the street then headed over to Rockefeller Center to buy lunch at Bouchon — and by "lunch" I mean cookies. Todd and I skipped protein in favor of sugar. Fuzz had a grilled cheese sandwich and a tomato soup which she said was excellent.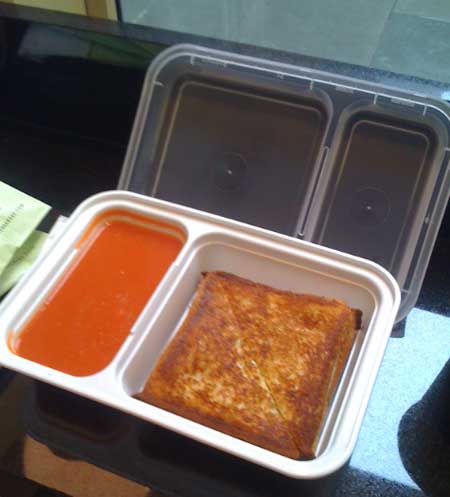 Next we went to all the major touristy stores in Times Square and scoped out a place to eat our pre-theater dinner. I dislike eating early, but we had Wicked tickets and opted for a quick dinner at a restairamt around the corner from the theater.  It was called Natsumi, and we it was the perfect pre-theater spot.   And not only did they serve sushi, but steak and various Italian dishes for those in the party not interested in raw fish.
After the sushi, we saw Wicked. Our seats were dead center in the orchestra and don't even ask me how much I paid for the tickets. Was it worth it? Fuzz looked like this the whole time, so yes.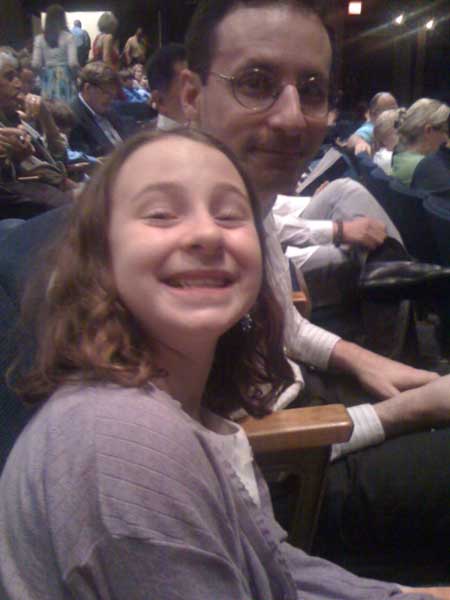 The next day we woke up to more rain, but we had our umbrellas and weren't too worried.
We headed straight for Alice's Tea Cup that morning. I'd been to the original, but this time we went to Chapter Two on the east side, not too far from the Central Park Zoo. It started off as a pleasant breakfast, but Fuzz got mad at me for eating half her scone so it ended on a sour note. Luckily, the zoo was around the corner and we got past our issues.
Now about the Central Park Zoo, I wasn't sure it would be worth the admission since it's so small, but thanks to this guy, it was. This was the closest I've ever gotten to a polar bear.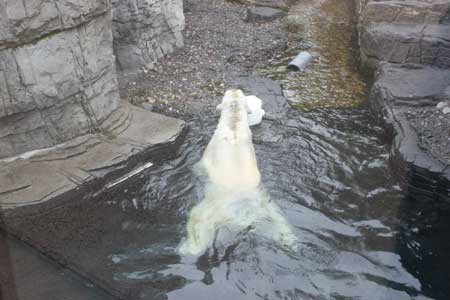 It was also fun to see the sea lions too.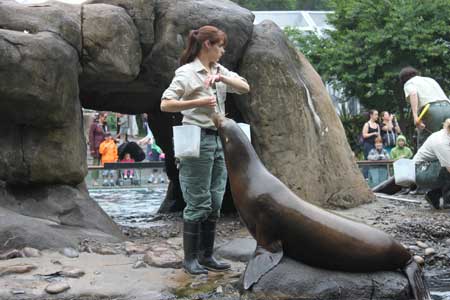 From the zoo we headed west to the other side of the park and grabbed the subway in front of the Dakota and rode down to Chelsea for some lunch.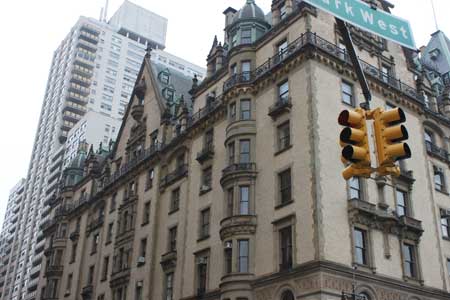 We ate at Chelsea Market, the place where Oreos were invented back in 1912. In the past, Chelsea Market has always been very, very quiet during my visits (I go early), but this time I got the full-on satisfaction of fighting the crowds for a table, standing in line to use the restroom etc. But it was worth it. Todd found a really good sandwich in the back of some kitchen appliance store and Fuzz and I got salads from a produce store and another salad from an Italian place. It's like a big food court and mall all in one. Plus, it's next to The High Line which was high on our list of places to see.
The High Line is an old train track that was converted to a public walkway/park. I wish we'd had more time to walk it. It goes from 14th street to 34th and has views over the Hudson. If I lived in New York, I'd walk on it every day. But we had an appointment in Brooklyn and had to go. Next stop, Brooklyn Heights. We met our friend Melissa and her family at Downtown Atlantic Bakery…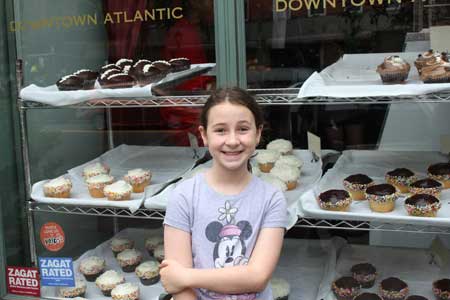 …then checked out the new additions to Brooklyn Bridge Park. If you are visiting lower New York with kids, it's worth crossing the bridge for. The city of New York called it "a destination park".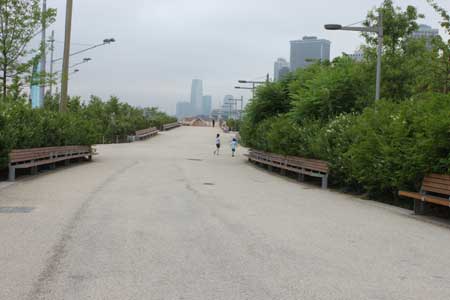 Again, we didn't have much time because we needed to get changed for dinner at Landmarc with Taneka.  Taneka has been the forum moderator on Cake Mix Doctor for many years, but she's mostly a scratch baker when she has the time. Really, she's my expert on where to find the best bakeries and restaurants. At dinner, she recommended Sprinkles (Taneka prefers it over Crumbs) and told us to go to Payard for macarons. She figured they'd give Bouchon's a run for the money.  After dinner, we made our way back to the hotel and went to bed.
Okay, onto the next morning!
We headed toward Soho, but got off the train at 14th and ended up talking with some farmers and bakers at the Farmer's Market. Interestingly, all the baked goods were made with Smart Balance or vegetable oil. A farmer told us butter and margarine weren't allowed due to NYC law. I knew they'd banned trans-fats, but didn't think they banned butter. Not that I'm complaining because all the baked goods look great, but the laws confuse me since there's a shake shake up the block and not everybody has calories and fat posted. Anyway, we had fun at the Farmer's Market and next time we'll probably stay in Union Square.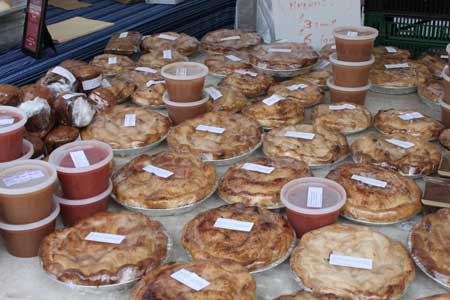 Walking from Union Square to Soho was nice. We said hello to NYU and pointed out the chess players in Washington Square Park. Our destination was Pearl River Mart, where Fuzz hoped to find one of those Chinese waving cats. She did. Now she has a waving cat in her window here at home.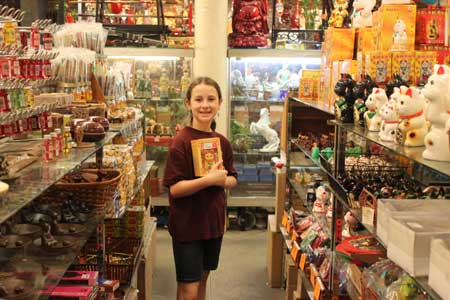 We also bought this cute t-shirt from an Ray at  Iteetoo. You can buy his shirts on Etsy or hunt him down in Soho.  We found him on West Broadway where he had a nice selection of shirts.  The cupcake with the tear of joy is a new design.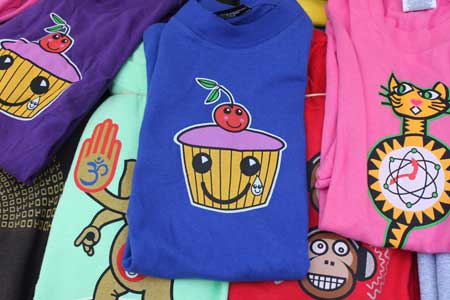 Finally, it was time for lunch. We'd only planned on buying macarons at Payard, but we got there early and found they had all sorts of nice looking salads, and a pleasant area with tables. We bought some macarons, but I also had what I thought was the best sandwich of my life (not greasy, made on special pretzel bread, very fresh tasting turkey, homemade mayo). It was pretty much my ideal lunch.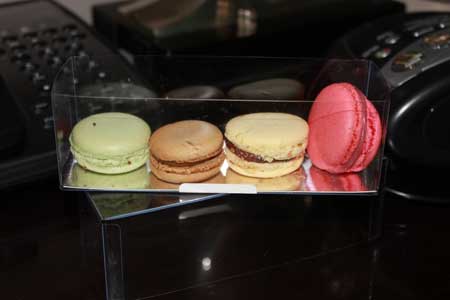 After lunch we got on the 6 Train and headed to the upper east side to get (more) dessert at Sprinkles. Sprinkles is relatively new in New York and so far, very popular. Their cupcakes are moister than Crumbs and less flashy…more homey.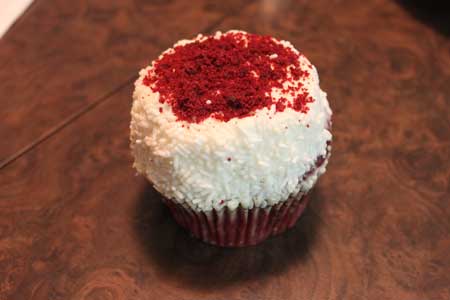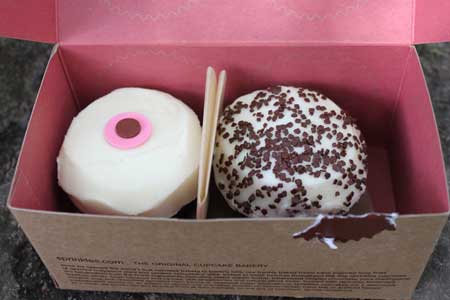 I actually liked Sprinkles and Crumbs equally, but I can see why Taneka recommended Sprinkles. Sprinkles cupcakes are softer and more like what you'd bake yourself, while Crumbs have interesting fillings, are sweeter, and have that light shortening based icing that doesn't melt very quickly. At least I think it was shortening. I really don't want to know.
Eating all those sweets and saving room for dinner is a challenge, but we've mastered it. It involves tasting rather than eating the whole cupcake and lots of walking. Luckily, we did have an appetite for dinner that night at a lovely Italian pizza place chosen by our friend Allan. I didn't take any photos, but if you are in the Gramercy area, the place is called La Pizza Fresca and their pizzas are remarkably similar to what we ate in Rome and Florence. It's a slow paced restaurant very much like Italy, so plan on staying a while and enjoying something from their vast wine list. For pizza, this was remarkably better than some of the other popular pizza restaurants we've tried in the area.
After dinner, we walked 30 blocks back to our hotel (it was a quick walk) and stopped in Madison Square Park to pet dogs. We pet a corgi and realized we missed Lizzie and Hal. It was time to head home the next morning, but as usual it was a fun trip.