I just popped in to say thanks to Katrina and Sue for the guest posts. We are still on vacation. Yesterday we saw tons of whales in Auke Bay and made friends with a team of Juneau sled dogs.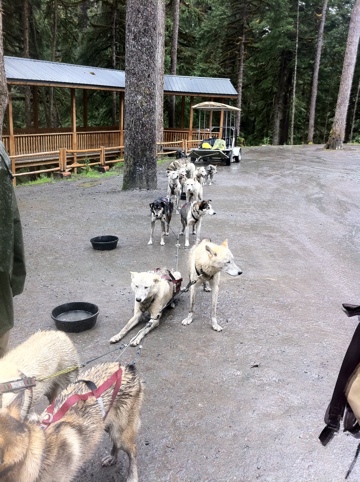 Today we are visiting bald eagles at the Raptor Center in Sitka.
Update on Juneau Sled Dogs
I posted this while on vacation, and this update is long overdue!  If you are interested in playing with and riding with sled dogs in Juneau, I recommend Dog Sled Discovery & Musher's Camp. We discovered this camp through Holland America and visited it the day our ship docked in Juneau. It was definitely one of the highlights of the trip, and if you are a dog lover you must add it to your bucket list.  For this camp, and I assume most, you learn about the big races, the care and training of sled dogs and what life is like at camp.  And of course the best part is you get to take a ride!