This week has been crazy, and I haven't had a chance to post a dessert.  However, I did try a really good new brand of chips and have been meaning to tell you about it for the last few days.  The chips are called Beanfields.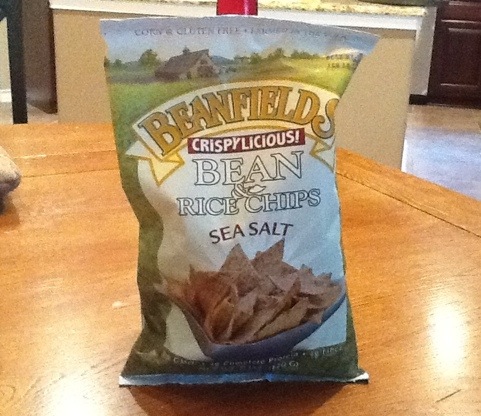 I discovered them at the Good Food Santa Monica Fest. The owner of the company was there passing out samples and his booth was swarming with people. Beanfields are gluten free, corn free and higher in protein than regular chips. The protein is what caught my attention, so I joined the crowd and waited patiently for my sample. The chips are great! They have an interesting crispy, rough texture and the flavor is kind of like what you'd get if you dipped corn chips in bean dip then baked it all together. I liked them so much I bought two bags and carried them all the way back to Austin. Fuzz went nuts. She loved them as much or maybe more than Fritos. Actually, she's sitting here right now watching me type this and she says she likes these BETTER. The guy passing out the samples (who thanks to the website I have now determined to be Reed Glidden) said they're starting to have a national distribution. I hope so. If you see buy a bag, let me know what you think.
Here's the Beanfields Snacks website.