Would you like to come upstairs and see my extracts?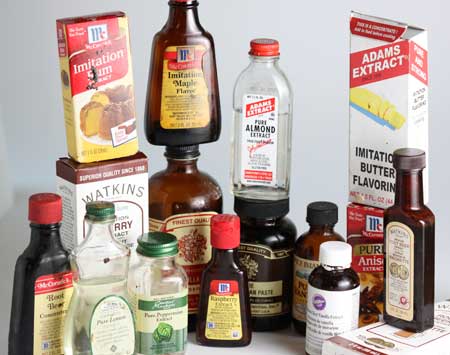 I don't know why I took this picture other than the fact I was bored and playing with my new lens. That and I've been thinking a lot about extracts. What's up with our love for vanilla?  Who uses chocolate extract and in what?  When you go to the grocery store, do you cruise down the baking aisle just to see if they added any new flavors? It was a pretty big deal when McCormick's raspberry extract came out, but then there was a dry spell and my grocery store had the same old flavors – – vanilla, mint, and almond. At some point, the store branched out and now we have banana, strawberry and even a couple of new flavors from Watkins including cherry and root beer. Did I mention that my grocery store was a gourmet hybrid?
Anyway, I've made a vow to try different extracts this holiday season and will let you know how it goes. This is largely based on the success I had today with Watkins Cherry Extract in a chocolate cake. I'll report on that after later. That is, after we eat it and get the full cherry chocolate experience.