If you're tooling around Austin today, make sure to stop at one of the Austin Bakes for Bastrop bake sales.  Here's a list of all the cool places you can find a sale.
Community Renaissance Market, 6800 Westgate Boulevard, 78745
The Flying Saucer at The Triangle, 815 W. 47th Street, 78751
Foreign & Domestic, 306 E. 53rd Street, 78751
Hotel San Jose, 1316 South Congress Avenue, 78704
Old Settler's Park, 3300 E Palm Valley Blvd, Round Rock, 78665
Whole Foods Market Gateway, 9607 Research Boulevard #300, 78759
Whole Foods Market Lamar, 525 N. Lamar Boulevard, 78703
Cash and checks are accepted at all bake sale sites, and gifts may be made via the secure online giving page any time. All funds raised online and at the sale will go directly to The Austin Community Foundation's Central Texas Wildfire Fund. Gifts made via check and through the secure online giving page are 100% tax deductible, and will be acknowledged with a tax receipt from the Austin Community Foundation.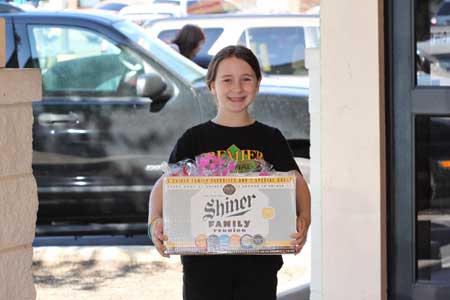 Fuzz and I dropped our goodies off this morning at the Community Renaissance Market, an old Albertson's grocery store that has been converted into a big space housing art, antiques, general merchandise and food vendors.  There's even a cute little restaurant/cafe called Native Nom Nom which occupies the space where the Albertson's bakery used to be.  Or was it the deli?  I can't remember because I only went to that place once or twice when it was an Albertson's.  Anyway, the place is really neat and if you live in Austin it's worth checking out even if there's not a bake sale going on.
Here are a few more pictures from the sale. I love seeing how people set up display tables and package their goodies.