Yesterday I mentioned a crazy chocolate muffin kick. Well, I'm coming off it. I got the results I wanted (for now) and like this recipe for Dark Chocolate Oatmeal Muffins enough to share it.
Let me preface this by saying it's easy to make really rich, delicious, buttery chocolate muffins. Obviously, making them tasty and lower in calories and fat is harder. A company that's mastered it is Vitamuffin, but since going to the store and buying Vitamuffins is just too easy (and more expensive), I wanted to make something similarly low in calories and with some nutritional value. I was also on the fence as to whether to go the "better living through chemistry" route and use artificial sweeteners or stick with sugar. With this muffin, you can take either route.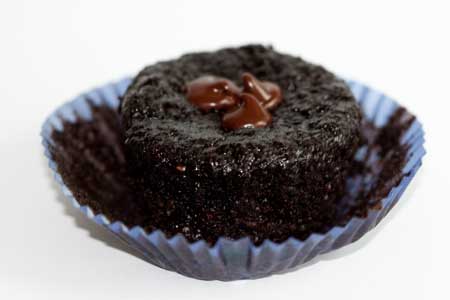 First, I started with a Vitamuffin clone from Food.com (formerly Recipezaar) which had pretty decent reviews. I also liked some of the modifications made by Katie at Dashing Recipes, particularly changing the flour to oats. I won't bore you with how many times or alterations I made because the truth is I lost track, but in the end the one I liked best was this one. The muffins don't rise much and they come out of the oven fairly soft. As they cool, they solidify somewhat and taste really good, even though the texture is slightly grainy from the oatmeal (but not bad — just different).
As mentioned, I mostly played around with sweeteners and made versions with Splenda Brown Sugar Blend, Fibrelle and regular granulated sugar. The Splenda version had a long, unpleasant aftertaste, the Fibrelle version was great (but Fibrelle isn't in grocery stores yet) and the sugar version was just fine, though slightly higher in calories than the two with the sugar substitute. I'm convinced coconut palm sugar or evaporated cane juice crystals would be awesome here, but I didn't have of those things and can't tell you for sure.
I also swapped the drained applesauce out with some prune babyfood. That was very good, but I kept running out of prune baby food and settled on the applesauce version because applesauce is usually what people have lying around.
Made with sugar, the muffins were around 140 calories and close to 2 oz each. Made with Fibrelle, they were closer to 100 and with the same weight.  You can use whichever sweetener you like. If you try something other than sugar, I'd be interested in hearing the results. I'm also just curious to see if people like this recipe, so if you have time to make it and comment that would be great.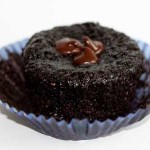 Print Recipe
Dark Chocolate Oatmeal Muffins
Wheat free chocolate muffins. Reduced calorie and reduced fat.
Ingredients
1 1/3

cups

oats

1/2

cup

unsweetened Hershey's dark cocoa powder

1 1/2

teaspoons

baking powder

3/4

teaspoons

baking soda

1/4

teaspoon

salt

3/4

cup

hot coffee or how water

1/3

cup

of *drained* applesauce or pureed baby food prunes

2

large egg whites

1/3

cup

vanilla or plain yogurt

3/4

cup

sugar or Fibrelle or your choice of non-liquid sweetener = to 3/4 cup of sugar

1

teaspoon

of vanilla extract

1/2

teaspoon

chocolate extract

optional

1/3

cup

extra dark chocolate chips
Instructions
Preheat oven to 400 degrees. Line 12 muffin cups with foil or paper liners or just spray with baking spray.

Grind the oatmeal in a food processor. Add the cocoa powder, baking powder, baking soda and salt and pulse to mix. Open the processor and add hot water (or coffee), applesauce, egg whites, yogurt, sugar (or Fibrelle), vanilla and chocolate extract (if using). Process until well mixed, stopping to scrape sides of processor. Remove top of processor and stir in the chocolate chips (or pour mixture into a bowl if that's easier for you)

Divide the mixture between the 12 muffin cups -- it should come almost to the top. Put in the oven, set the timer for 18 minutes.

Immediately reduce heat to 350 F. Bake at 350 for 18 minutes or until muffins appear set. Let cool and set in the cups.
Notes
To drain applesauce, start with about 2/3 cup. Spread a circle of applesauce on a stack of paper towels and let it sit for about 10 minutes so that towels soak up the extra water. You'll be surprised at how much water you lose by draining it.
This recipe halves easily. If you don't have a food processor but you do have a coffee grinder, grinder the oats in the coffee grinder and make the recipe in a bowl.
Use whatever type sweetener you like, but check to make sure that whatever type you use equals 3/4 cup regular sugar. Some measure spoon of spoon, but others don't.
If you make the muffins with Fibrelle, you might want to let people know that the sweetener has maltitol in it. Some people are fine with them, but others are sensitive. With the Fibrelle, prunes and oats, this is definitely a high fiber muffin! If you're serving these to a group of people you don't know. it's probably best to stick with the sugar.