In an attempt to use up some oranges we bought earlier in the week, Fuzz and I made these orange scones.  And while we typically don't love orange flavor in bread nor honey flavor in large amounts, the two flavors balance each other out and taste great.  What is really special is the texture.  Unlike heavy, biscuit-like scones, the cream makes these very soft and light.  Also, the scones are really easy to make — no pastry cutter or food processor required.  They're on the sweet side, so while you could add a little jelly, you might be better off going with butter.  Wait, that sounds bossy.  Sorry.  Put whatever you like on your scone.  One of these days I'm going to try clotted cream.  In all of our years of making and eating scones, we've never tasted it.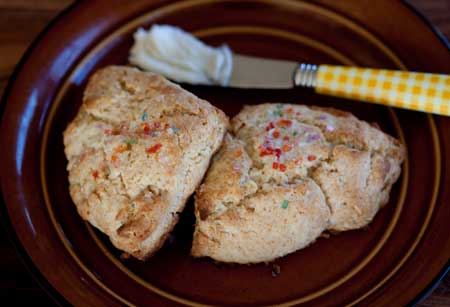 Honey and Orange Scones
1 3/4 cups (8 oz/228 grams) all-purpose flour
2 scant tablespoons granulated sugar
1 1/2 teaspoons baking powder
1/4 teaspoon salt
1/4 cup plus 2 tablespoon heavy cream
1/4 scant cup honey
1/2 teaspoon orange zest — we used zest from a "Cutie"
1/4 teaspoon vanilla extract
a little extra cream plus some sparkly or coarse sugar
Preheat oven to 425 degrees F and have ready a parchment lined baking sheet.
In a mixing bowl, thoroughly stir together the flour, sugar, baking powder and salt.  Make a hole in the middle of the flour mixture and add the cream, honey, zest and vanilla.  Mix the wet ingredients together in their little hole, then mix everything together with a spoon until you get a soft dough – be careful not to over-work it so your scones will be light.  On a lightly floured surface, shape the dough into a circle about 8 inches in diameter.   Cut the circle into 8 wedges and arrange the wedges a few inches apart on the baking sheet.  Brush tops with a little additional cream and sprinkle with coarse sugar if desired.  Bake for 10-12 minutes.
On a floured work surface, shape dough into a circle about 6 to 8 inches in diameter.  Cut that circle into triangles and arrange the triangles a few inches apart on the baking sheet.  Brush with a little additional cream and sprinkle top with sparkling or coarse sugar.  Bake at 425F for 10-12 minutes.
Since it's the holidays, here's the latest photo of HAL the dog. Isn't he cute? He's waiting for me to throw him some scone.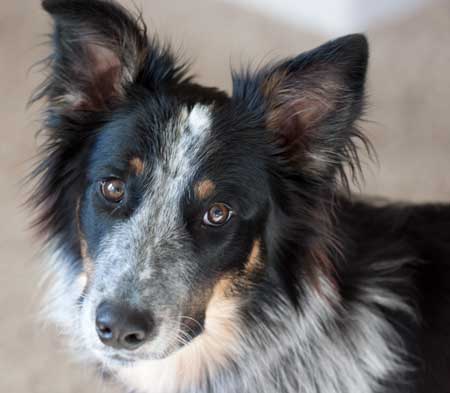 We still haven't figured out what he is, but signs point to Blue Heeler Border Collie Mix. I won't say he's smarter than Lizzie because Lizzie's special, but he's more obedient and open to learning and improving his skills. Lately, we've been working on howling like a wolf. I've never had a dog that could howl before, but Fuzz was playing the harmonica and he just started doing it. Now we're getting to the point where he can do it on command.
Okay, back to baking.
P.S. Sorry there's no picture of Lizzie, but I couldn't get her to look at the camera this morning.
Related posts: