Up until recently, I organized my recipes by pasting them into Microsoft Word files.  It was the fastest method I knew, but it had its drawbacks and I was happy to discover a better way — one that had been on my computer all along.  If you have Office 2010, chances are you have it too. It's called One Note, a digital notebook which lets you file notes and documents in their original form (photos and all), under tabbed folders.  Obviously, it's great for recipe collecting.  You can grab recipes from various sources, create a page underneath a tabbed category, and paste the recipe and photo right in.  Plus One Note automatically puts in the URL, so you'll never forget the source.
I'm still kind of new to One Note, but I'm making a lot of progress with my organization goals.  If you have any tips, please  feel free to share.
For me, the easiest way to get started was with a special cookbook template which takes a second to download.  When I opened One Note using the template, I found a file that looked something like this with a few tabs and sample recipes.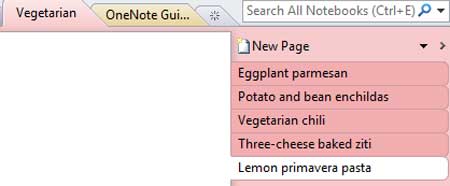 From that point, I started adding tabs for recipe categories, then creating pages under each tab as represented in this screenshot.  Sorry it's so tiny, but  I was trying to fit in the whole layout so you could see the tabs  going across the top.  On the far left is the list of recipe pages created for that category/tab.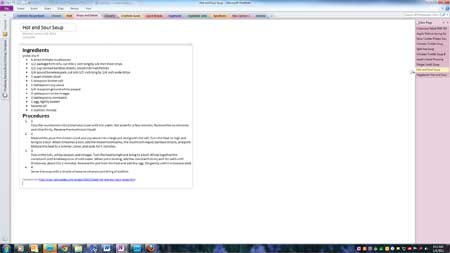 Here's another view showing the "Desserts" tab.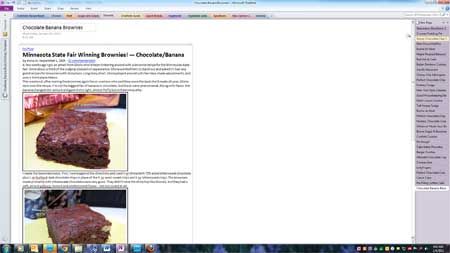 For me, this is an organizing tool, but One Note is also a sharing tool. You can read more about it here  near the part that says "Mom, the Chicken Marsala is on it's Way!"  And it's probably useful for other types of information gathering as well.
But as mentioned, I am just now really latching onto this  and am interested in hearing from anyone else who's using One Note for recipe organizing.  If you have any tips, please feel free to add them.  Thanks!