This year I was invited to contribute to the Austin Food Blogger Alliance 2012 City Guide. And while my post focuses specifically on cookies, other Austin food bloggers have covered everything from fine dining to food trailers. If you're coming to Austin in the near future, make sure to check out the guide.  All the posts will be live on March 1.  For now, let's talk cookies!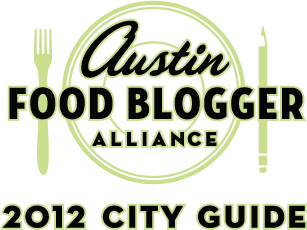 For this guide, I've made a list of places I'd feel comfortable sending a true dessert lover.   And since so many visitors to Austin stay in the downtown area, I've limited this to the downtown area (with a couple of exceptions).  Feel free to add recommendations for cookies all over town. Believe me, I will get to them.
Okay, here we go. As mentioned, a couple of restaurants are farther out and San Francisco Bakery on Anderson Lane is one of them.   Their cookies aren't big and flashy, but homey and similar to what you'd make if you had the time. The chocolate chip cookies are okay, but the snickerdoodles and sugar cookies are better — soft, chewy, and full of flavor. As a bonus, they stay fresh for a while. My husband bought my cookies early in the day and by evening they were still perfectly chewy and flavorful.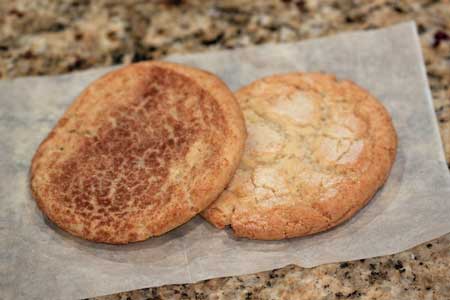 Just north of downtown is an old favorite, The Upper Crust Bakery. Upper Crust is known for fat, fudgy, nut-studded cookies so good that even Recipe Goldmine posted a copycat.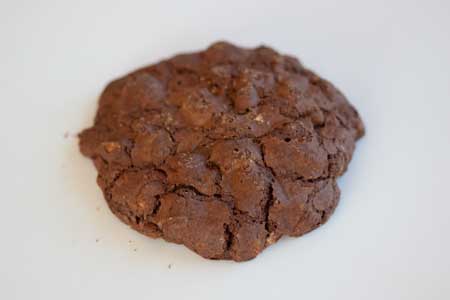 But I also really liked their chocolate chip cookies. While not the fanciest or prettiest at the ball, they have this great flavor I can't quite pin down. Plus Upper Crust is not shy with the nuts. Try to get the cookies while they're fresh (which I guess could be said for any bakery, right?).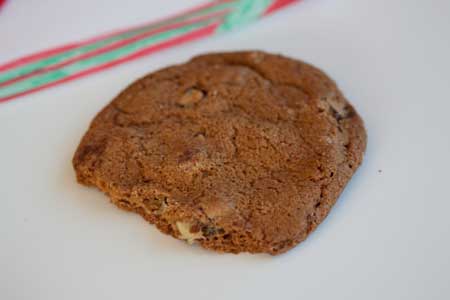 Another Austin downtown area favorite is Sweetish Hill. Their chocolate chip cookies are okay (they call them Toll House cookies and they taste like it too).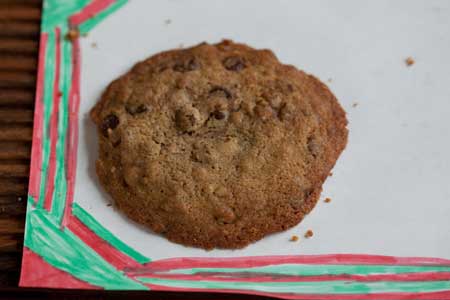 But in my opinion the peanut butter are slightly better.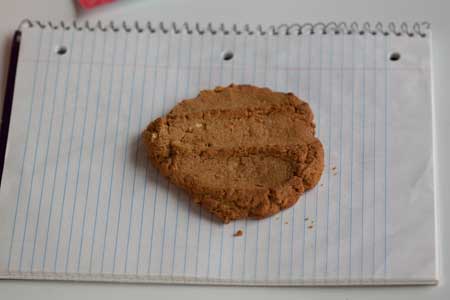 The real star here are the oatmeal cookies. They're fat, soft, not-too-sweet and I could rationalize eating one for breakfast. Sweetish Hill also makes good granola.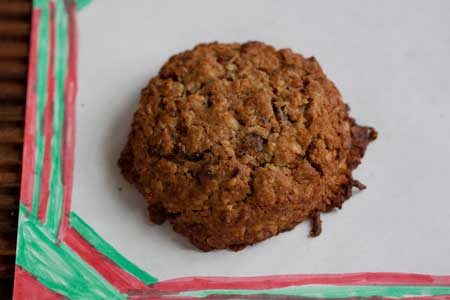 In downtown, a good choice is Bakerman's. Skip the chocolate chip and go for their snickerdoodles. Unlike San Francisco bakery who serve them flat and chewy, Bakerman's makes theirs big and fat.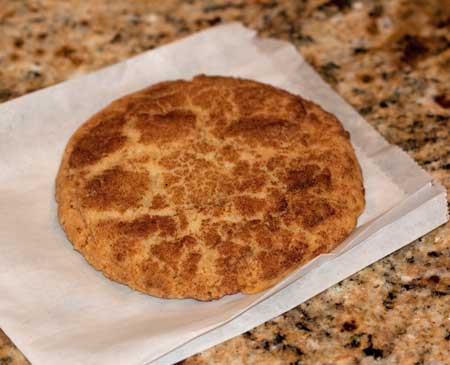 Okay, so where IS the best chocolate chip cookie? As I write this, I'm going to have to say it's in the Whole Foods Bakery. You'll probably stop here for something anyway, so consider it a bonus that they have the winning chocolate chip cookies. And if you're vegan, then it's a double bonus. Whole Foods cookies are called Vegan Big Johns. They're so good I've been trying to copy them at home. What makes them so good is the chewy, thick, flavorful, burnt caramel texture and the special chocolate they use called Oro Chocolate Ribbons, made from a uniquely flavored singly source chocolate out of the El Oro region of Ecuador. They're also a bargain, at about 99 cents a cookie.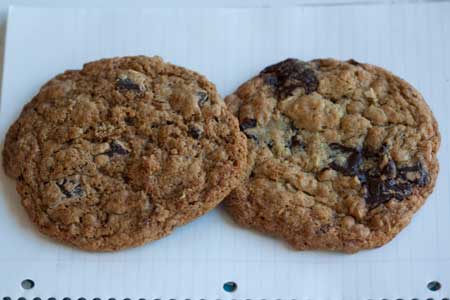 If warm cookies are your thing and the convenience of having cookies delivered to your hotel, office or house are key, another Austin favorite is Tiff's Treats. Started years ago by college students who delivered their cookies in pizza boxes, Tiff's has now expanded to multiple locations in Austin and Dallas. Todd says his office orders Tiff's at least twice a month and everyone has their favorite. In fair disclosure, I still haven't tried Tiff's, but I've been told by other local bakers their brownies are good.
Moving on. More good cookies can be found at Quackenbush's aka "Quack's". I used to stop by the West Campus location back in college.  I never felt cool enough to be there then, nor do I now. Quack's has kind of a reputation as being, I don't know, kind of hipster? Just go and find out. The bakery is worth it. Order the ginger cookie.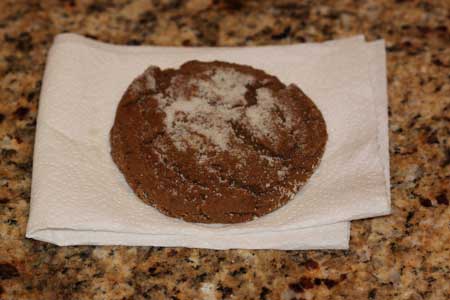 Or if you like peanut butter, order that.  Quack's makes a decent peanut butter cookie, though I think they could improve it with peanut butter chips or candy of some kind.  Maybe they're too cool for that.  Whatever ;).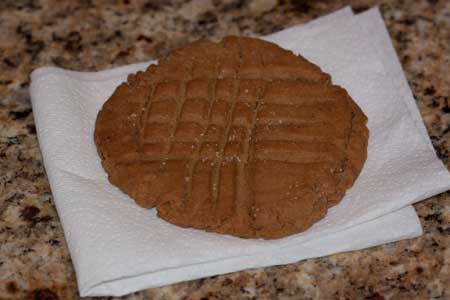 Oh, and speaking of being too cool, South of Austin on Congress is a popular area for tourists thanks to the good restaurants, funky shops and Liz Lambert's empire.  Okay, not "empire" necessarily, but she's got a neat little hotel and one of my favorite coffee shops, Jo's.  If you stop at Jo's, get the granola.  That's kind of a cookie, right?
Another stop in the south Austin area should be Sugar Mama's.  While I can't personally vouch for their cookies, their cupcakes are excellent and if the cookies are as good as their cupcakes you're in business.  I need to get over to Sugar Mama's and sample a cookie, but the cupcakes just keep getting in the way.
And finally, another convenient place for great cookies is Central Market south or north. A local favorite is the Central Market bakery Pecan Chewy , but again – you really can't go wrong. While you're there, look for what some consider Austin's best brownie, Miles of Chocolate. Mile's chocolate brownies are somewhat of a cross between a brownie and fudge, but ethereally light textured and of course, very chocolaty. You'll find them in the refrigerator case. If you can't , just ask. Miles keeps Central Market well stocked.
Ah, but I've only skimmed the surface here. Let's call this an ongoing list.  I'll add to it, but if you have a suggestion or an Austin favorite, let me know in the comments.  I'd love to hear your picks.