Last week the people at Swerve sent over a lovely sample pack of their sweetener. I'm still testing it in different things and will give you the verdict soon, but along the way I discovered a really good muffin recipe and wanted to share it. I like this one because it calls for whole wheat flour, a ton of blueberries and just enough butter to give you a normal (as opposed to rubbery or dry) muffin texture. And for some reason I think it would be really awesome with blackberries and maybe a pinch of lemon zest.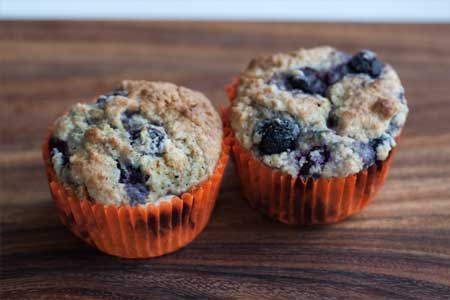 This version of the recipe makes six muffins. For the full twelve, follow this recipe from Family Fun.
Half Dozen Whole Wheat Blueberry Muffins
An easy muffin recipe made with half whole wheat flour
Ingredients
3 tablespoons unsalted butter, softened
1/2 tsp. vanilla extract
6 tablespoons granulated sugar or your favorite sugar alternative
1 large egg
1/4 cup milk
1/2 cup all-purpose flour, plus 1 tbsp.
1/2 cup whole wheat flour
1 1/2 teaspoons baking powder
1/4 tsp. salt (use slightly less if using salted butter)
1 1/3 cups frozen blueberries, no need to thaw
Instructions
Preheat the oven to 375 degrees and line a six muffin cups with paper liners. In a large mixing bowl, cream the butter, vanilla and sugar together with an electric mixer. Add the eggs and stir until blended, then stir in the milk.
In a separate bowl, mix the flours, baking powder, and salt. Stir it into the butter and sugar mixture, then stir in the frozen blueberries, being careful not to squash them (if they're frozen, they'll be fine!). Fill the muffin cups almost to the top and bake for 25 minutes, or until light brown. Makes 6 muffins.
Related posts: